Global groups convene at Hyatt Regency Trinidad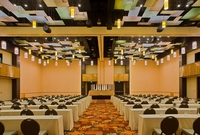 With the tremendous success of last year's Fifth Summit of the Americas and Commonwealth Heads of Government Meeting, Hyatt Regency Trinidad continues to welcome major conferences and meetings this year.

In January, the hotel hosted the Trinidad & Tobago Energy Conference attracting over 450 delegates from around the world and is looking forward to the Caribbean Health Research Council Conference this month, with approximately 250 registered attendees, as well as the Master Brewers Association of the Americas (MBAA) District Caribbean Convention 2010.

"After experiencing the success of last year's many conferences and meetings, including the two major global conferences attended by many world leaders, my staff is ready and able to welcome any group, large or small," said Russell George, general manger of Hyatt Regency Trinidad. "Our central location as part of the International Waterfront Development in the Port of Spain, along with our superior service and world-class facilities, makes our hotel a natural choice for meetings."

The hotel is proud to welcome and looking forward to hosting other conferences such as the Trade and Investment Conference, the International Court Administration Conference, the 35th Commonwealth Parliamentarians Conference and the FIFA Under 17 Women's World Cup in September this year.

With 428 guestrooms and 43,000 square feet of meeting space, Hyatt Regency Trinidad offers the largest meeting space in the English-speaking Caribbean. An expert team of conference coordinators, food and beverage managers, entertainment and event planners enables the Hyatt Regency Trinidad to customise gatherings for 25 to 1,700 people. More than 43,000 square feet of versatile function space is available from small breakout rooms to two ballrooms, including the spectacular 16,000 square foot Regency Ballroom. Plus, the latest innovations in meetings technology, audio/visual services and translation facilities effectively combine advanced business service and amenities with cross-cultural communication.

For more information about meetings and conventions or reservations at the Hyatt Regency Trinidad in the heart of downtown Port of Spain, visit trinidad.hyatt.com.