Fiat Professional in major new fleet supply deal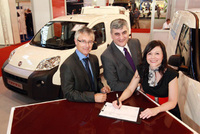 Fiat Professional announced this week that Scottish Southern Energy has committed to a 1100-vehicle supply arrangement.
The vehicles – a mix of new Doblo Cargo, Fiorino Cargo and Grande Punto van – will be funded and managed by Lex Autolease, and go into service from June this year.
Gemma Trew, Commercial Manager of Fleet Services, SSE was joined by Mike Lauriello, Corporate Business Development Director, Lex Autolease, and Colin Parnell, National Key Account Manager at Fiat Group, to finalise the agreement at the CV Operator Show, NEC, Birmingham.
"We are delighted to announce this business with our partners at SSE and Lex Autolease," said Colin Parnell. "This confirms once again that the Fiat Professional range provides a very competitive low cost of ownership model for major fleets.
"Align this to our superior engine technology including Euro-5, Start&Stop, and factory speed limiting and we have a first class proposal for fleet operators."