Renault Fluence ZE and Kangoo ZE - Finalised designs revealed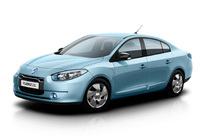 Renault has unveiled the finalised designs of Fluence Z.E. and Kangoo Van Z.E., while customers wishing to be among the first to run on electrical power can pre-reserve their vehicle at renault-ze.com. The simple act of registration allows prospective buyers to choose their electric vehicle and benefit from priority availability as soon as it comes onto the market.
Aware of the impact that motor vehicles can have on the environment over their complete life cycle, Renault has been working actively for many years to achieve ongoing improvements regarding the ecological footprint of a vehicle at every phase of its life (production, on-road use, recycling). As demonstrated by its Renault eco² programme in favour of the environment, Renault believes it is essential to ensure that the most effective technologies are available to as many motorists as possible at an affordable price.
Electric vehicles represent a clean-break solution aimed at making CO2 emissions-free mobility in use, except wear parts, available to all. In its bid to become the number one low CO2 European carmaker, Renault is working on two main fronts:
the introduction of new technologies for internal combustion engines and transmissions,
and an unprecedented commitment to all-electric vehicles.
Renault estimates that electric vehicles will account for 10 per cent of the world market by 2020. The Alliance is investing €4 billion in its zero emissions programme and a 2,000-strong team (1,000 at Renault and 1,000 at Nissan) is already working on electric vehicles
RENAULT FLUENCE Z.E.
Following Fluence Z.E. Concept's unveiling at the 2009 Frankfurt Motor Show, Renault has taken the wraps off the finalised design of Fluence Z.E. which is due to go on sale in Israel, Denmark and the rest of Europe from 2011. As the C segment's first production saloon electric vehicle, Fluence Z.E. targets motorists and fleet operators who are looking for a status-enhancing vehicle that is both economical to run and respectful of the environment.
RENAULT KANGOO VAN Z.E.
Following last December's presentation of prototypes of the forthcoming Kangoo Van Z.E. at the COP 15 (United Nations Climate Change Conference) in Copenhagen, Renault is pleased to reveal the model's finalized design. This vehicle will be released in the first half of 2011 and will have an operational range of 160km. The electric version of Kangoo Van features the same practical functions as the internal combustion-engined vehicle, i.e. the same carrying capacity (ranging from 3 to 3.5m3), the same payload (650kg) and the same high standard of comfort. On top of that, it delivers a silent ride and responsive performance, the immediate availability of torque as soon as it starts, no gear changes, low running costs and, of course, the satisfaction of owning a zero-emissions* vehicle.
* road-use related CO2 emissions
PRE-RESERVATIONS OPEN
The principle of pre-reservations and why register?
Renault is inviting those customers who want to be among the first motorists to own an electric vehicle to pre-reserve via a dedicated website: renault-ze.com. Registration is free and enables prospective buyers to choose their vehicle and benefit from priority availability as soon as it comes to market. These pioneering customers will then be contacted by Renault as the date of the vehicle's release approaches to obtain confirmation of their reservation. This dedicated website (renault-ze.com) will also give registered visitors access to exclusive, electric mobility-related content, services and applications.
Infrastructure and existing pilot projects
Within the framework of its zero emissions strategy, the Renault-Nissan Alliance is working actively with governments, administrative bodies, local authorities, energy providers and other partners. To date, it has signed more than 50 agreements across the world aimed at preparing markets and establishing the necessary infrastructure for the mass marketing of electric vehicles from 2011.