Vauxhall extends warranty on starters and alternators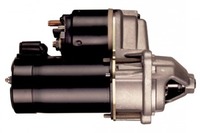 Vauxhall Aftersales is pleased to announce that with immediate effect the warranty on all its starters and alternators will be extended from the standard one year to two years.
Mark Willis, Product Marketing Manager for Vauxhall Aftersales commented; "We're very pleased to be able to offer the extended warranty on these essential parts. It really underlines our belief in the reliability and quality of our products as well as our commitment to retailers and customers".
The extended warranty does not affect unit prices which remain at the current level.