Shoppers experience new spring trends in Leamington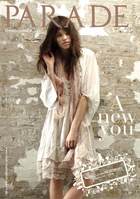 With spring finally here, warmer weather and longer daylight hours, more and more shoppers are being enticed to Royal Leamington Spa, keen to check out the latest trends and styles. To give shoppers a taste of what is on offer within the town, BID Leamington has produced another exciting, glossy magazine entitled Parade.

The 16 page, free magazine is part of BID Leamington's on-going promotion of the town, aimed at driving footfall to retailers and attracting new customers, particularly from neighbouring towns.

Parade focuses on promoting high street brands and independent retailers. Stylish and visual, it features the latest fashion trends for men, women and children, top beauty essentials, bridal accessories, summer products as well as home and outdoor accessories. Each item lists the store from which it can be purchased. Parade also provides information on eateries, nightlife, recruitment and moving to the town along with quotes from retailers.

310,000 copies of Parade have been printed. 169,000 copies are being distributed via the 'Mail on Sunday' on Sunday 25 April to locations within an hour of Leamington. A further 136,000 copies are being distributed by the local Observer series on 22/23 April to households in Banbury, Kenilworth, Leamington, Rugby, Solihull, South Coventry, Stratford-upon-Avon & Warwick. A further 5,000 copies are being distributed through town retailers.

This is now the fourth edition of Parade. The first edition was distributed last spring and promoted national retailers. The second edition, entitled Inspire, was distributed last summer and promoted independent retailers. The third edition featured a mixture of retailers and was distributed last Christmas. Every retailer within the BID area will benefit from some exposure, either in previous or future editions of the Parade/Inspire magazines.

Helen Smith, Executive Director of BID Leamington, stated "This is another fantastic initiative to further promote the town as a prime shopping destination. Parade is about giving visitors ideas for spring & summer inspired gifts and encourage them to explore the town's wide range of shops from small independents to larger national chains. Leamington already has an enviable reputation for shopping and Parade will further enhance it".

Additional copies of Parade are available through BID Leamington. Businesses interested in participating in future promotions should contact Helen Smith for more information. For information on BID Leamington, visit bidleamington.com and for information on Royal Leamington Spa, visit royal-leamington-spa.co.uk.