'Leamington Live' set to be an exciting success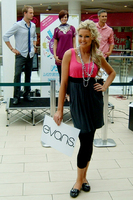 Leamington Live, the new two day event celebrating style, arts and culture in Royal Leamington Spa, looks set to be a highly exciting and successful event.

Organised by BID Leamington, the event will take place on Saturday 1 & Sunday 2 May and is free to attend. Hundreds of local businesses are participating in this unique event which is expected to attract thousands of visitors from across the UK.

Leamington Live will incorporate five trails around the town which will follow the five senses – sight, sound, taste, touch and smell. The Fashion Trail will feature the season's hottest trends with 'Fashion on the Move' from retailers such as Lilac Rose, Tiger, Kew, The White Dress Boutique, East, Noa Noa, and Amorani as well as in-store demonstrations. Leamington Transition Towns will be show-casing a garment produced entirely from recycled fabrics.

Visitors can also take advantage of a number of special discounts with Gap offering a 30% discount and Lombok offering a 20% discount. Nicky Hambleton Jones (of Channel 4's '10 Years Younger') style consultancy will be offering hints and tips for dressing success. Visitors can also receive complimentary treatments from salons such as Esque, Braid Barbers and Bespoke Beauty at various Pamper Pods around town.

The Food Trail will incorporate a live kitchen with demonstrations by local chefs, special offers at restaurants and cafes and free sampling. Starbucks will be demonstrating the art of roasting beans and making the perfect cup of coffee. Country Bumpkins will be offering free cheese tasting, Holland and Barrett will be giving away sample snacks and Deli-cious will be providing free recipe sheets.

The Art Trail will feature live demonstrations by established and up and coming local artists including Jon Hicks, who enthrals audiences with his high skill shows, creating incredible artworks and artistic oddities. Rachel Skeet, a local artist, will create beautiful hand embellished artworks live in stores.

The Music Trail will play host to a number of local talented musicians performing a wide range of music in dedicated areas. Popular names include Phase One Steel Orchestra and Beth Tysall. Beth has already performed at the Royal Albert Hall and is due to launch her new album on 1 May. Both acts will be performing in the centre of the Parade on the Sunday. Other local bands include Jazz musician 'Andrew Hughes', Soul and Jazz band 'The Titanics', classical guitar group, 'Animato' and 'Adam Jurewicz' on Spanish guitar.

The Elephant Trail will incorporate a fun treasure trail where children will have to locate elephants in store windows and break the code. The top prize is a family safari day out at Woburn Abbey.

Event staff will be on hand to guide visitors, answer queries and hand out leaflets. A pocket sized leaflet will detail all the events and activities taking place over the two days.

Helen Smith, Executive Director of BID Leamington, stated "Leamington Live looks set to be a fantastic unique event showcasing a wide range of local talented artists and performers. With an action packed two days, Leamington Live provides something for the entire family and will be one of the highlights of the events calendar".

For information on Royal Leamington Spa, visit royal-leamington-spa.co.uk.