First UK Captiva order for local Busy Lizzie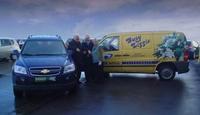 Local couple, Terry and Margaret Ward have become the first people in the UK to place an order for the new Captiva SUV from Chevrolet retailer Perrys of Rotherham.

Terry and Margaret are the owners and managers of Busy Lizzie florists in Carr House Road, Doncaster and will be using the 2.0 litre, 7-seater Captiva on a daily basis for business meetings and deliveries.

"We both loved the look and style of the Captiva as soon as we saw it," said Mr Ward. "We are a family owned business with over 25 years experience in the floristry industry and we feel that the Captiva reflects our own outlook, with its modern, attractive looks and outstanding value for money."

Macolm Jenkinson, Chevrolet's Senior Salesman at Perrys of Rotherham explained: "The Chevrolet Captiva is available from summer 2007, but we've already had an enormous amount of interest from customers, so much so that we decided to open the order books early. We're really pleased that Margaret and Terry are the first to see the great value the Captiva represents and we're sure that this summer is going to be a very busy season for us".