Iveco and Haynes Trucks 'steel' fleet replacement order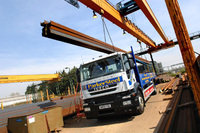 Iveco and its Kent-based dealer, Haynes Trucks, have won a major conquest deal with steel stockholders John Parker & Sons to replace its 32-strong fleet of 18 tonne rigids with new Stralis Active Day multi-drop distribution vehicles.
Key to winning the order was the close business relationship which has developed between John Parker & Sons and Haynes Trucks, which has operated an all-makes servicing facility at the customer's head office in Canterbury for the past 11 years.
Norma Reay, Operations Manager at John Parker & Sons, explains: "We are a busy company and this in turn makes us very demanding of both our fleet and our suppliers. The quality of the service we've received from Haynes Trucks since they took over our vehicle maintenance played a large part in our decision to replace our eight year old Volvo rigid fleet with Iveco Stralis'."
The Stralis AD190S31/P 4x2 rigids are being fitted with bespoke dropside bodies designed to cope with the rugged demands of making multi-drop deliveries of steel. Their introduction marks the arrival of the first rigids in the fleet to benefit from an automated gearbox – a standard feature on all Stralis vehicles – whilst the latest Enhanced Environmentally friendly Vehicle (EEV) engines (also a standard feature) will ensure they are some of the greenest 18 tonners operating anywhere in the UK. The specification also includes the fitment of on-board tracking systems, hands-free telephones and mobile data terminals allowing drivers to record deliveries electronically.
Highlighting the fleet's critical role, Reay says: "Steel is one of the most difficult products there is to carry on a truck and to deliver well. We are fairly unique amongst steel stockholders for specifying sided vehicles, but it makes deliveries both cleaner and safer, which reflects the good reputation John Parker & Sons has established during its 102 year history.
"Changing all of our rigid vehicles to Stralis' will allow us to standardise our fleet as much as possible. We will also be allocating each driver their own vehicle, which helps to embed a sense of pride in keeping the trucks clean and damage-free."
Each of the new Stralis 18 tonners is expected to remain on the fleet for at least six years, covering approximately 12,000 miles a year delivering steel to customers across the South of England. They will be spread across the company's four sites, which include depots in Andover, Canterbury and Waterbeach, supported by a new port side development at Shoreham.
Designed specifically for short-haul distribution, each of the Stralis AD rigids feature the same air-suspended seat with four separate comfort level settings as the flagship Active Space range. The EuroTronic gearbox fitted as standard offers either fully or semi-automated shifts, helping to provide a safer and more comfortable driving experience as the driver can give the road ahead his maximum concentration, rather than having to worry about changing gear.
Each vehicle is powered by a 7.8 litre Cursor 8 engine, developing up to 310 hp between 1,675 and 2,400 rev/min and up to 1,300 Nm of torque between 1,200 and 1,675 rev/min. These engines all meet EEV standards, which were originally intended as the appropriate benchmark for a CNG-powered vehicle and now act as a stepping stone between Euro 5 and Euro 6, offering lower emissions limits for all pollutants other than NOx.
John Parker & Sons stocks more than 8,000 steel items within its 300,000 square foot covered warehouse, ready for immediate distribution. It uses sophisticated stock control systems to ensure its products arrive in perfect condition, on time, every time, with its sales office handling over 2,000 calls a day.