Chevrolet Aveo to debut at Frankfurt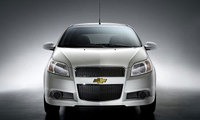 There's a new face to look out for at next month's Frankfurt Motor Show, as Chevrolet will be pulling the wraps off its latest supermini offering, the Aveo.

One of the Aveo's most striking features is its dramatically-styled exterior. The radiator grille is split horizontally, with curved clear glass headlamps and the company's trademark 'bow-tie' logo becomes a styling feature in itself, while at the rear, new clear glass lamp lenses add to the model's futuristic style.

The look echoes some of the styling cues seen on the WTCC Ultra concept, first shown at the Paris Motor Show in 2006.

But it's not only the exterior that ushers in a new era of styling for small Chevrolet models. Inside, the Aveo has a completely new, high class cabin, with soft-touch quality plastics and improved fabrics throughout.

Two engines will be offered at launch – a new fuel-efficient 1.2-litre unit developing 84PS, and a 98PS 1.4-litre powerplant, which will be available with automatic transmission.

Sales of the new model will begin in spring 2008, and more details will be available when the car makes its public debut next month.