Guest Trucks expands network with new Iveco satellite dealerships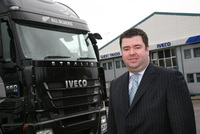 Iveco main dealer Guest Trucks has expanded its network of satellite dealerships to become one of the largest Iveco franchises in the UK. This has seen its area of responsibility extended with new facilities in Boston, Cambridge, Leicester and Peterborough.
These facilities join long-established Guest Trucks satellites in Birmingham, Coventry and Wolverhampton, together with a site in Telford which opened in October 2009. The eight-strong network will support this main dealership and head office in Kenrick Way, West-Bromwich.
Rob Spittle, Managing Director of Guest Trucks, explains: "Our relationship with Iveco dates back to 1986, during which time we've established Guest Trucks as one of the most respected commercial vehicle dealers in the Midlands.
"This continued growth is a natural step forward for the company and re-affirms our commitment to the Iveco brand. It's testament to the hard work of our 170 staff that the business is in a position to keep pushing our boundaries further," he adds.
The changes form part of Iveco's network redevelopment project which began in 2008 and which is seeing the number of main truck dealers gradually reduced from 24 to 18, but with additional satellites to ensure a customer is never more than 40 miles (and often, much less) from an authorised Iveco service point.
Commenting on the changes, Andrea Bucci, Iveco's Network Director, adds: "Guest Trucks has an excellent reputation amongst both our fleet and retail customers. Their expansion marks one of the most significant developments to our dealer network in more than a decade and I am confident customers will see direct benefits in terms of even stronger sales and aftersales support."
Guest Trucks will support operators in Leicester with a newly established dealership in Warren Park Way, Enderby. This 1.8 acre site includes a 12 bay workshop, dedicated parts facility and hard-standing ground for up to 40 commercial vehicles and replaces a main dealer franchise previously held by Chatfields Truck & Van.
Guest Trucks has also acquired the area of responsibility previously held by TC Harrison, including its Iveco sites in Peterborough, Boston and Cambridge. The majority of TC Harrison employees have transferred to Guest Trucks under TUPE, increasing the number of staff it employs to more than 240.
Guest Trucks' parent company, Guest Motors, enjoys strong ties with the Fiat Group and has been an Alfa Romeo dealer in Solihull and Wolverhampton since 2003. It also opened its first Fiat Auto dealership in August 2009 in Wolverhampton and offers the Fiat Professional range from its four original Iveco sites in the West Midlands.
For further information, visit guests.co.uk.