Low on CO2, but still big on value – the new Matiz 0.8s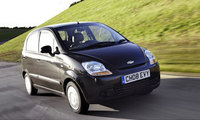 Leading value car brand Chevrolet has come up with a model that will save its customers even more money, with a new version of the popular Matiz 0.8S city car.

On sale now, the Matiz with 0.8S manual comes with reduced CO2 emissions of just 119g/km, meaning it falls into the Band B road tax classification. This means a Matiz buyer will pay just £35 a year at current rates to tax their car, compared to £115 for the previous Matiz 0.8S.

What's more, if you live in or around London, then from October 2008 the Chevy will avoid one levy altogether, by waving 'bye-bye' to the London Congestion Charge. Under new proposals, the scheme proposes a 100 per cent discount to all vehicles with CO2 emissions of below 120g/km from having to pay to enter the zone, subject to a £10 registration fee.

The news comes on the back of a huge boost in popularity for Chevrolet's city car, which saw its sales increase by 34.5 per cent in 2007, reflecting the overall growth of Chevrolet in the UK. Overall sales in 2007 were up 27.6 per cent as people become more aware of the iconic Chevrolet brand's presence in the UK market.

What's more, the Matiz 0.8S offers the same great value for money as it did before, with an impressive list of standard equipment that belies its low purchase price. All models include central locking, immobiliser, power steering, tinted glass, a Blaupunkt RDS Radio/CD player and body coloured bumpers as standard.

This great value is further complemented by low running costs, with Group 1A insurance and a combined fuel consumption figure of 54.3mpg adding even more strength to the Matiz's appeal among cost-conscious motorists. Chevrolet also offers a comprehensive fixed-price servicing package for all its cars, costing £199 for three years/30,000 miles or £399 for three years/60,000 miles on Matiz.