Warmer, greener, more efficient - New homes make big strides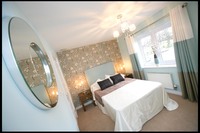 Did you know that homes built by leading housebuilder Barratt North East are up to 40 per cent more efficient than they were just a decade ago? Buyers of brand new homes from Barratt on Wearside and across County Durham are enjoying the benefits of energy-efficient central heating, double glazing and high levels of insulation.

These make for a home which is warmer, greener and up to 40 per cent more energy efficient than homes built even at the beginning of the 21st century.

And thanks to modern materials and methods of construction, today's new homes are a remarkable ten times more energy efficient than their Victorian equivalents.

The average annual energy bill of around £400 on a brand new 3-bedroom home would compare with more than £800 for a similar 1930s property, according to figures from the New Homes Marketing Board.

The benefits of a brand new Barratt home include:

• Energy efficiency heating – new homes are warmer and cheaper to run
• Double glazing – fitted with trickle vents to provide controlled ventilation
• Insulation – lofts are insulated to a minimum 250mm to cut heat loss
• Peace of mind – the exclusive Barratt five-year guarantee covers fixtures and fittings as well as the ten-year structural warranty

"A new home today is better by design and is the product of modern construction techniques," said Fenton Hewitt, Sales Director at Barratt North East. "It is more comfortable and more efficient, and uses less energy, meaning lower bills.

"You could save hundreds of pounds on fuel bills compared with older homes and also live a greener lifestyle with lower carbon dioxide emissions.

"And new homes are set to improve even more in the next few years because we are continually moving forward on the technology used to build them."

Barratt is building at seven developments on Wearside and across County Durham, and offers a variety of helpful low-cost homebuying schemes which could enable buyers to move in for as little as 70 per cent of the price.

Developments are located at Blackhall Rocks, Consett, Hetton-le-Hole, Sacriston, Sunderland and Wingate.