Infiniti Limited Edition Bell & Ross wristwatch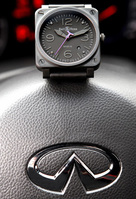 Infiniti, the luxury automotive brand from Japan, has announced the arrival of the Limited Edition BR03-92 Instrument Phantom Infiniti wristwatch, engineered by the Swiss specialist watchmaker Bell & Ross. Just 100 examples are being produced, and will be offered only through Infiniti Centres in Europe.
The launch of the exclusive timepiece, an elegant accessory for the discerning Infiniti customer and the watch collector, marks the collaboration of two brands which are synonymous across the globe with exceptional performance, craftsmanship, precision, and modern luxury.
The special edition BR03-92 Phantom Instrument has been designed by Bell & Ross to commemorate the recently revealed Infiniti FX Limited Edition performance crossover, restricted, just like the watches, to only 100 individually-numbered examples worldwide. However, such has been the extensive demand prior to the release of the watch, that only a handful remain.
The parallels from the fusion of Infiniti and Bell & Ross are clearly evident in the appearance of the piece. The black carbon powder finish, which encapsulates the 42 mm case, resembles the graphite finish applied to many exterior parts of the Infiniti FX Limited Edition and is just as beautifully-crafted. The seconds hand which sits on a galvanic black dial, is lined with a distinct purple coating, the same colour which lies at the heart of Infiniti's brand identity, and can be seen everywhere from the instruments of the car to furnishings inside the Infiniti Centre.
Whilst on the move, it is all about the ownership experience which is personal and exclusive: the rear of each the 100 pieces has been engraved with the Infiniti signature and is complemented by an individual number of the edition within the BR03-92 Instrument Phantom Infiniti series.
Jim Wright, Vice President Infiniti Europe, explains: "The limited edition BR03-92 Instrument Phantom watch is a perfect tribute to the core qualities of Infiniti. It is also about offering the Infiniti owner something truly special and individual which we are able to achieve through this exceptional timepiece."
The BR03-92 Instrument Phantom Infiniti watch goes on sale on 01 June 2010 at a recommended retail price (RRP) of £2,809.97 and is available for purchase from all European Infiniti Centres. For their locations which range from Barcelona to Bucharest, see infiniti.eu.