Krakow prepares for Selector Festival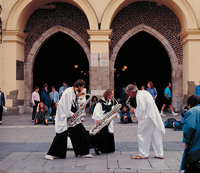 With organisers promising new, fresh and innovative acts as well as established artists for the two-day music and multimedia event, Krakow's Selector Festival is expected to kick-start a summer of festivals across the country and further afield.

This year, UK act Faithless will headline the star-studded bill that also features Calvin Harris and Friendly Fires on the weekend of Friday 4 and Saturday 5 June.

The brainchild of Alter Art, the group behind the Gdynia Open'er Festival, the Krakow Selector Festival is now in its second year and hopes to build upon a success debut last summer.

Held in green fields close to the centre of one of Poland's most beautiful cities, the festival performances will take place in two huge tents that can hold 15,000 fans.

Acting Director of the Polish National Tourist Office Bogdan Becla said: "Although Krakow has a rich and exciting history, it is very much a city that is looking to the future and there's plenty on offer for the younger generation. The Selector Festival will be a great way to start the summer in a wonderful part of the world."

Tickets are on sale now for the event with prices starting at 135 PLN or just £30. To find out more visit selectorfestival.pl.