LG's latest Blu-ray player offers even more content via Wi-Fi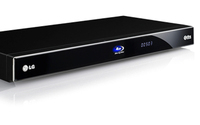 LG, a major player in the global flat panel display and audio-video device market, introduce the BD570 Blu-ray player.
LG's BD570 is no ordinary Blu-ray player. The new model's built-in Wi-Fi allows it to connect to the internet or a home network to bring a wider variety of entertainment options to the living room.
"People shouldn't be restricted to watching movies that come on discs," said Stephen Gater, Head of Marketing, LG Home Entertainment Company. "We have included wireless connectivity on the BD570 that allows consumers to access content from other DLNA devices and NetCast too."
Wireless internet access allows the BD570 to take content, such as YouTube videos, usually viewed on a small computer screen and put them onto a large TV in the living room. To make regular Blu-ray discs even better, the BD570 unlocks additional movie-related content from the web with BD-Live. This highly-connected Blu-ray player also provides convenient access to information like local and global weather forecasts from Accuweather and can connect to Picasa, to view and share photos online.
Many families have already accumulated substantial digital media libraries filled with music, movies, home videos and more. The BD570 connects via Wi-Fi to the computers on a home network or DLNA (Digital Living Network Alliance) - compatible storage devices. It can also be connected directly to external USB hard drives or thumb drives to play HD quality DivX and MKV movies.
The BD570 connects to most TVs with a single HDMI cable, ensuring viewers always see the highest possible picture quality with both Blu-ray discs and regular DVDs, which it up-scales to 1080p resolution.
The LG BD570 Blu-ray player is available in stores now.
Specifications:
Wi-Fi for simple and easy connectivity
DLNA for in house network streaming
External HDD Playback
NetCast for online content of YouTube, Accuweather & Picasa
HD Grade Movie File Playback (MKV & DivX HD)
USB Plus for Playing Movie, Music & Photo