Discover Grenada with gardening guru Suzanne Gaywood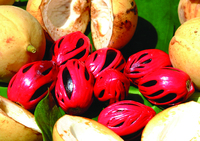 Grenada's gardens are set to welcome their first group of green fingered guests this October. They'll be the first to explore the Caribbean island's exotic flora with a new seven night guided Garden and Spice Plantation Tour from Golden Caribbean from a tidy £999pp including flights.

Offering insights as the group explores eight private and public gardens, nurseries and plantations will be Grenada-born gardening guru Suzanne Gaywood, whose Grenada exhibit at The Chelsea Flower Show has attracted 12 awards, 7 of them Gold, over 12 years, including Gold at last year's show. Gaywood sources blooms for her winning pavilions from several of the gardens and nurseries on the tour.

Renowned for its lush landscape and verdant tropical rainforest, Grenada offers enthusiasts rare orchids and palms, exuberant flowering shrubs, trees, and scented spice groves. The Garden and Spice Plantation Tour, designed for just twelve travellers, offers unprecedented access to Grenada's most colourful and fragrant gardens including Hyde Park Gardens – home to dozens of rare orchid species; The Bay Gardens – populated with over 5,000 plant species across garden and forest; and Smithy's Garden – studded with mahogany trees and located 1,000ft above sea level.

Garden and Spice Plantation guests will learn about the historic capital of St George's and the heritage of the island's indigenous peoples with local historians. They'll have ample time to join in the festivities in the fishing village of Gouyave and discover the island's bustling markets, pristine beaches and mouth watering cuisine.

For more information, visit goldencaribbean.co.uk.