Fiat Doblo Cargo takes two top van awards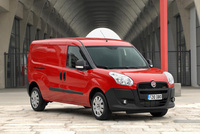 Fiat Professional's newly launched Doblo Cargo has won two major honours, just weeks after the van's introduction into the UK.
The new commercial vehicle, which went on sale here in March, has been named Best Light Van in the 2010 Van Fleet World Honours, announced today (18 May) in London. Fiat also won the competition's Environment Award for the Start&Stop fuel-saving technology fitted to Doblo Cargo.
Following in the footsteps of the original Doblo Cargo, which was first announced in 2000, the new model continues to uphold its predecessor's reputation as a tough vehicle for the professional driver. New Doblo boasts even greater practicality, versatility, comfort, safety and fuel efficiency.
Not only does it have greater carrying capacity than before in both weight and size terms, but new suspension ensures the ride is improved. And a new range of Euro 5-compliant engines makes Doblo Cargo cleaner and cheaper to run.
The Start&Stop system stops the engine automatically, without the driver turning the ignition key, whenever traffic conditions bring the vehicle to a complete halt, and restarts it when the driver wants to move off again. This can reduce fuel consumption by 15 per cent and decrease carbon dioxide emissions by around four per cent.
Doblo Cargo is the only commercial vehicle in its class to have this function available across all engines.
"When new Doblo Cargo was launched recently, the model took the kind of step forward it has needed for the past few years," says John Kendall, editor, Van Fleet World, and one of the judges. "Among its attributes are new engines, a larger body option in the UK for the first time, and a well thought out vehicle that is good to drive.
"It is not only a significantly better van than its predecessor but, as already noted, is the first van to offer a stop/start system as standard with 2.0-litre diesel powered models. Research has shown that an automatic stop/start system offers the largest potential economy gain, while also cutting idling time and reducing noise in urban traffic."
"We have been delighted with the way new Doblo Cargo has been received by the media and by private and fleet customers," says Gerry Clarke, director, Fiat Professional in the UK. "And important awards such as these from the 2010 Van Fleet World Honours, show that it is catching the attention of the judging experts too, for all the right reasons."
The Fiat Doblo Cargo starts at £11,195 (basic price) for the Cargo 1.4 16v Petrol, rising to £15,945 (basic price) for the diesel-powered Cargo Maxi SX 2.0 MultiJet 16v.