Five million cars built at Fiat's Melfi plant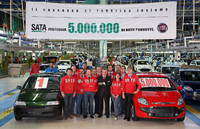 Another historic manufacturing landmark has just been passed by the Fiat Group as the five millionth vehicle rolled off the production line at Fiat's SATA plant in San Nicola di Melfi, Italy, one of the world's most dynamic automotive factories.
And it's fitting that the milestone car was a red Punto Evo 1.4 Emotion – a model which evolved from the Grande Punto, and is at the forefront of motoring innovation, in terms of the environment, safety and style.
The event was celebrated at the plant with a ceremony attended by provincial dignitaries and the director of the SATA plant, Nicola Intrevado.
The first vehicle built at the plant, a Fiat Punto, came off the production line at SATA in September 1993. It was followed by the second series Punto, the Grande Punto and the latest model, the Punto Evo, which entered production in September 2009. Also contributing to the history of the five million vehicles produced in Melfi was the Lancia Ypsilon, which totalled more than 870,000 units.
The Melfi plant was the first Italian factory to be awarded Silver Level certification by WCM (World Class Manufacturing), an international standard for production cycle organisation.