Altec and Iveco raise new opportunity for crane operators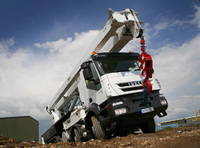 Altec Worldwide has built a new type of mobile crane which it displayed on its stand at last month's BAUMA Show in Munich, Germany. The demonstration unit, built on an Iveco Trakker AD340T41K 8x4 rigid chassis supplied by Hendy Van and Truck, is now being made available for crane operators in the UK to trial.
It marks one of the first telescopic construction cranes to be mounted onto a regular heavy truck, offering operators a more affordable and flexible option than purchasing a dedicated crane chassis.
The demonstrator incorporates a 38m long boom which offers an operating height of up to 42m, combined with a maximum lifting capacity of 36 tonnes. Operators can also specify an additional jib which increases the lift height by a further 16.5m. An optional manned platform can also transform the crane into a versatile access machine allowing two people to work at heights of up to 58.5m.
A spokesman for Atlec Worldwide says: "Making our construction cranes available on vehicles such as the Trakker will significantly reduce the purchasing cost for operators. Dedicated crane chassis are typically more expensive than regular trucks, and don't benefit from the same extensive service network offered by manufacturers such as Iveco – or such easy availability of spare parts."
The Altec crane uses hydraulic legs to lift the Trakker chassis off the ground when the crane is in operation. This ensures the crane's sub-base takes all of the weight throughout the lifting process, without any stress being placed on the truck.
"Where this vehicle will really come into its own is with the speed at which it can work, coupled with its manoeuvrability on-site. Unlike many construction cranes which can take three to four days to rig, and require additional counterweights to be delivered on-site, the Trakker allows operators to drive at normal motorway speeds between jobs. This allows the potential to work at several different sites in the same day."
This unique application allows the Trakker to be registered as a specialist vehicle, meaning it is exempt from normal tachograph regulations. Altec expects it to be of primary interest to crane rental fleets and construction operators which run their own fleets. Its core capabilities include the ability to lift roofing trusses and large sections of concrete onto building sites, erect mobile telephone masts and carry out electricity line-work for utilities companies. It is also expected to prove of interest to defence fleets throughout Europe.
The crane is driven via a power take-off from the Trakker's 12.8 litre Euro 5 Cursor 13 engine. On the road, this engine is capable of producing up to 410 hp between 1,515 and 1,900 rev/min, ensuring maximum power is available from intermediate speeds to allow smooth driving even over rough terrain. Also key to the Trakker's performance is the 1,900 Nm of torque available between 1,000 and 1,515 rev/min, which aids manoeuvring in adverse operating conditions.
The Trakker's specification includes single reduction Meritor axles and all-round ventilated disc brakes, ensuring the best possible braking performance, whilst also promising simple and fast maintenance which helps to minimise downtime during vehicle servicing. It also features an 'Easy-Clean' cab, which removes much of the cloth-covered trim and replaces it with a wipe-clean finish, enabling the cab to be cleaned more easily when operating in harsh, dirty and dusty environments.