Step, strut and stride at Hyatt Regency Trinidad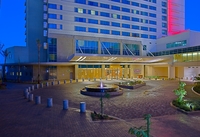 Hyatt Regency Trinidad is once again gearing up to host one of the Caribbean's most popular and highly-anticipated events, the 3rd Annual Fashion Week Trinidad & Tobago (FWTT), 29 May - 6 June, 2010. The hotel, located in Port of Spain, will set the stage for four days of high-fashion models, runways and haute creations from designers throughout the region.

The fashion frenzy opens in Pigeon Point, Tobago, 29 – 31 May, and moves to Hyatt Regency Trinidad, 2 – 6 June, where runways will showcase regional and local fashion houses. The event will also feature a first-ever buyer's gallery, along with after-parties for those who want to see and be seen. With the continued growth of the event, especially the new buyer's gallery, FWTT organisers are proud to partner with Hyatt Regency Trinidad for its premier event space. Each runway show at Hyatt Regency Trinidad will be shaped by five branded categories: Caribbean Cutting Edge, Cosquelle Swimwear, Nouveau Caribbean, New World Style, and Haute Caribbean and display each designer's unique and colourful creations.

"We are once again looking forward to welcoming designers and artists as they showcase their latest creations at our hotel," said Russell George, general manager of Hyatt Regency Trinidad. "We are proud to be a part of this successful event, highlighting the best in Caribbean style."

The theme for this year's Fashion Week Trinidad & Tobago is "Step, Strut, Stride." Designers from Trinidad & Tobago, as well as from other countries in the region, will converge to display their latest trends, only showcased in the Caribbean. FWTT includes all aspects of the fashion industry from make-up artists, hair stylists and models to photographers, cosmetic producers and accessory manufactures. Art displays, musical performances and a showcase of past prize-winning Carnival costumes will also be part of the event.

For more information about the 3rd Annual Fashion Week Trinidad & Tobago, visit fwtt.org. For additional information regarding Hyatt Regency Trinidad, visit trinidad.hyatt.com.