Visit the remote beaches of Central America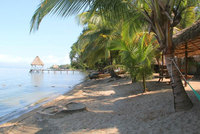 Thanks to warm waters, an abundance of marine life and white sandy beaches spanning across two coastlines, the epicentre of Central America's tourism lies on its beach shores. From tropical pacific shores to breath-taking Caribbean islands, here, the Central America Tourism Agency lists some of the best and most remote beaches of the region:
Refuge La Flor, San Juan del Sur, Nicaragua
The Refuge La Flor, located in the Nicaraguan Bay of San Juan del Sur on the pacific coast, is a protected natural area home to one of the most stunning and pristine beaches in Central America surrounded by tropical forests and mangroves. The reserve spanning across 800 hectares is also one of the few places in the world where the rare Olive Ridley turtles nest en masse between the months of July to November. Travellers wishing to visit the Refuge can take a bus from San Juan del Sur to Ostional which stops at the entrance of the reserve and takes approximately 45 minutes. Admission to the park costs approximately £6 per person. Local hotels and operators can arrange evening tours to the beach to view the nesting turtles.
visitcentroamerica.com/?q=es/country/nicaragua
The Cobanos, El Salvador
'Playa Los Cobanos' located in the department of Sonsonate on the north east coast of El Salvador is a haven of white sandy beaches and home to hundreds of turtles as well as thousands of species of fish and monkeys. The ocean surrounding the beach is made up of the largest coral reef in the north pacific spanning 147 kilometres making it one of the best places in the world for diving and water sports such as sailing and windsurfing. Los Cobanos is accessible by bus from San Salvador to Sonsonate. Travel time is approximately two hours and costs £0.80.
visitcentroamerica.com/?q=es/country/el%20salvador
Guanaja, Bay Islands, Honduras
The pine shrouded island of Guanaja is a seldom-explored caribbean paradise, located in the Bay Islands off the coast of Honduras. Guanaja offers travellers plenty of open space for diving and approximately 90% of the island has been declared a national forest reserve and marine park.
The 18 kilometre island is surrounded by a vibrant coral reef, approximately 15 cayes where many sunken ships have made it a mecca for snorkelling and diving. Sosa Airlines offers a daily flight from La Ceiba to Guanaja departing at 9.30am and 15.30pm with a flight time of approximately half an hour. A return flight is priced from £88. aerolineasosahn.com
Boca del Drago, Panama
Boca del Drago is a picture perfect beach on the Isla Colon on the Bocas del Toro archipelago in Panama ideal for relaxing and lounging by the sea. The beach is located far enough from Bocas Town that it offers an oasis of tranquillity and a slice of peace and quiet on stretches of palm lined beaches. The beach is accessible for £4 on the bus that departs from in front of the park in Bocas Town every day every two hours. It is located approximately 14 kilometres away from Bocas Town. bocasdeltoro.com
Tamarindo, Costa Rica
Surrounded by the Caribbean Sea and the Pacific Ocean, Costa Rica is the richest country in Central America in terms of beaches. Tamarindo on the pacific coast is a bay dotted with palm trees and surrounded by warm water and soft sand. It is a popular spot for surfers from all over the world as well as being a perfect place to spot wildlife on the beach including howler monkeys and tropical birds.
Nature Air airlines has daily flights flying from San Jose International Airport to Tamarindo Domestic Airport. Return flights are priced from £248. http://bit.ly/1RvslYo
Playa Blanca, Guatemala
Because of the volcanic history of Guatemala, most of its beaches are covered in black sand. Playa Blanca located in Izabal is the only beach in Guatemala to have white sandy beaches. It is a secluded and protected beach however it does allow public access. Playa Blanca is more of a day trip destination as there are no hotels or restaurants around the beach making the scenery on this beach totally unspoilt.
Playa Blanca can be reached by boat from Rio Dulce and Puerto Barrios. Prices vary according to the number of passengers on board and travel time takes approximately 40 minutes. http://bit.ly/1RvslYo
Placencia, Belize
With over 200 islands spread out over a coast that exceeds 386 km, Belize offers travellers an endless option of beaches to choose from. Placencia is a small coastal fishing village and one of the most attractive destinations in the country due to its proximity to the famous Great Big Hole. The Great Big Hole is a mecca for divers from all over the world wanting to enjoy crystal clear waters, first class hotels and a wide variety of activities. Travellers can travel to Placencia by bus from Belize Airport. Travel time is approximately five hours and a one way ticket is priced from £12. visitcentroamerica.com/?q=en/country/belice
For more information, go to visitcentroamerica.com