Island hopping in the Caribbean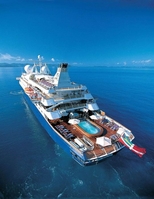 Defined by the statement, "It's yachting, not cruising," SeaDream Yacht Club offers guests the ultimate yachting experience – the epitome of casual elegance. More akin to a private luxury yacht, with a maximum of 112 guests and an award-winning crew of 95, the crew to guest ratio ensure that the service aboard each of SeaDream's twin mega-yachts is comfortably attentive. Those new to cruise will enjoy the freedom of exploration that comes with travelling on water, whilst avoiding the overwhelming size of traditional cruise ships.
From November 2015 to April 2016, SeaDream Yacht Club's 112-guest twin mega-yachts explore the Caribbean's most secluded destinations from the private coves and inlets of St Lucia and grottos of Virgin Gorda to the lesser known ports of Charlestown, Nevis, the cluster of five uninhabited islands of the Tobago Cays and the treasured retreat of Gustavia, St Barts.
Highly trained chefs prepare meals using ingredients sourced from local ports of call, creating menus that change daily alongside an award-winning wine list. SeaDream also offers innovative dining from a traditional Japanese menu to an optional Raw Food menu.
With adventure activities available as part of the inclusive SeaDream voyage, guests have access to a host of water sports including wave runners, kayaks and stand-up paddleboards, all of which can be launched directly from the yachts' Marina. Activities include 'Paradise from Above', a bell jet aircraft aerial tour of St Thomas, swimming with sea turtles, stingrays, barracudas, angelfish in St Barts Marine Park and flying through trees, across valleys, over a stream through tunnels of vegetation on the Sky Safari Zip Line in St Kitts.
For additional pampering, the SeaDream Spa is the only Thai-certified spa at sea offering forty different therapies and treatments, many of which may be enjoyed outdoors, on deck in the private, open-air massage area.
2015/2016 Caribbean Voyages include:
St. Thomas to San Juan, Puerto Rico sails 5th to 12th December, 2015. Ports include Charlotte Amalie, St. Thomas, U.S.V.I.; Saba, Netherlands Antilles; Gustavia, St. Barts and Marigot, Saint Martin, F.W.I.; Soper's Hole, Tortola, Great Harbour, Peter Island and White Bay, Jost van Dyke, B.V.I.; and Charlestown, Nevis. Price from £2085 per person
Marigot, St. Martin to Bridgetown, Barbados sails 27th February to 5th March 2016. Ports include Marigot, Saint Martin; Gustavia, St. Barts; Little Bay, Montserrat; Grande De Anse, Martinique; Port Elizabeth, Bequia, Tobago Cays, Union Island, Mayreau St. Vincent and the Grenadines and Bridgetown, Barbados. Price from £2608 per person
St. Thomas Roundtrip sails 26th March to 2nd April 2016. Ports include Charlotte Amalie, St. Thomas, U.S.V.I.; South Friars Bay, St. Kitts; Gustavia, St. Barts, F.W.I.; Sandy Ground, Anguilla; Spanish Town, Virgin Gorda, Soper's Hole, Tortola, Great Harbour, Peter Island, and White Bay, Jost van Dyke, B.V.I. Price from £2545 per person
Prices are fully inclusive yachting fares per person based on double occupancy and exclude flights and transfers. For more information please visit seadream.com. The two mega-yachts are also available for private charter.
About SeaDream Yacht Club
SeaDream Yacht Club has achieved the industry's highest accolades for its two twin, casually elegant mega-yachts, SeaDream I and SeaDream II. With a maximum of only 112 guests and a 95-person award-winning crew, "It's yachting, not cruising," defines not only the size of the vessels, but the onboard lifestyle and anticipatory service. SeaDream Yacht Club provides a yachting experience visiting small harbors and ports around the world, many inaccessible by larger ships, on 7 to 15-day voyages. An incredible array of services, activities, water toys, dining, wine, premium drinks and gratuities are available through SeaDream's inclusive fare.
For more information, visit seadream.com.