Enjoy Kadooment Day in Barbados - the Grand Finale of Crop Over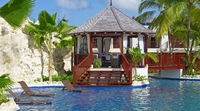 Crop Over is a summer-long annual festival in Barbados, which culminates on Kadooment Day on the first Monday in August, when it seems as if the whole island appears to let its collective hair down and party – big time!
The Grand Kadooment Carnival Parade is the climax of nearly two months of preparation and events to celebrate Crop Over, a party that originally marked the end of the sugar cane harvest.
Today, Crop Over is an eagerly awaited feature on the Barbados calendar with many ex-pat Bajans returning to the island to join the party at the beginning of August. If you are planning a visit to Barbados that coincides with Crop Over, it would be crazy not to join in the celebrations and soak up the joy-filled atmosphere.
The weekend starts on Friday with the Pic-o-de-Crop calypso competition finals at the National Stadium, followed by a dance party which usually doesn't get going until well after midnight and ends at daybreak on Saturday morning.
After a short period to recover, things get going again on Sunday with Cohobblopot, an event featuring performances by some of the biggest bands and soca artists in Barbados and where Kadooment bands display their elaborate and stunning costumes.
Kadooment Day itself culminates with a parade of rum-fuelled Masquerade Bands, and dancing girls 'twerking their stuff' (not for the feint-hearted!), with revellers following a route through the streets of Bridgetown in a Carnival-like fashion, to be judged at strategic points along the route which ends on the Spring Garden Highway.

UK specialist Hammerton Barbados whose directors split their time between Britain and Barbados to ensure that its portfolio of over 100 properties, contains only the very best on the island.
For those who'd like to witness this year's Kadooment Day, there are still plenty of options for parties of all sizes, from couple looking for a romantic escape, to groups of 18 people looking to party until the early hours, including the following…
Waterside 405, Paynes Bay, St. James (sleeps 2): This modern and comfortable 4th floor apartment has fantastic views across the Caribbean Sea and also has direct access to the quieter end of Paynes Bay beach. From £220 per night in August.
Sugar Hill B207 is a well appointed two-bedroom apartment on the Sugar Hill estate which is ideal for a family holiday in lovely surroundings with two swimming pools in the tropical gardens. From £220 per night in August.
Villa No.6 is on the exclusive Claridges estate, sleeping six people in three bedrooms. An exceptional villa, it is in an ideal location being a short walk to the stunning Gibbs white, sandy beach and with its own tropical gardens. From £500 per night in August.
For further information, visit hammertonbarbados.com.
After 30 years working in the tour operating and travel guide publishing businesses, Mark Hammerton and his wife Lisa launched Hammerton Caribbean, with an initial offering of over 100 luxurious villas and apartments located on the west coast of Barbados; properties range from smart apartments for two people, to imposing, modern mansions or former colonial homes sleeping up to 18.