Barbados is the place to be this autumn for sun, fun and action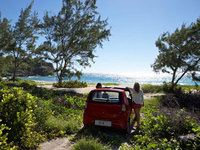 With autumn fast approaching, it's the perfect time for visitors to make the most of Barbados' year round warm climate and sunny weather. With a wide range of events taking place on the island this autumn and winter, there's plenty to whet the appetite – from the Red Bull Rally Cross and Open Water Festival, to Run Barbados, Classical Pops and the annual Food, Wine and Rum Festival.
Travelling to Barbados this autumn couldn't be easier, with direct flights weekly from all over the UK with Virgin Atlantic Airlines, British Airways and, as of November 2015, Thomas Cook from Glasgow.
Red Bull Global Rallycross – 3-4 October 2015
Red Bull Global Rallycross will be returning to Barbados just one year after the supercars first hit the tracks of Bushy Park Circuit. As the only international destination of the series, the popular event is sure to be one of the most thrilling races on this year's motorsports calendar. This year's 12-race schedule, which kicked off on 31 May in Florida, is the biggest yet and the UK's own Liam Doran will be representing – hoping to steal the crown from Scott Speed who won the 2014 Barbados final. redbullglobalrallycross.com
Open Water Festival – 4-8 November 2015
The Open Water Festival offers guests five fun filled days of swimming based activities around Barbados this November including open water swims at Carlisle Bay, Port St. Charles, Miami Beach and Copa Cabana Beach, races, fun swims, and kayak relay races. There are prizes to be won, as well as various activities, events, parties and entertainment on for those who aren't competing. swimbarbadosvacations.com
Food & Wine and Rum Festival – 19-22 November 2015
The Culinary capital of the Caribbean will host the 6th annual Barbados Food & Wine and Rum Festival this November. The event will feature international top chefs at various locations, and allow participants to taste their way through Barbados with delicious, savoury, and delectable food and beverage offerings. The festival schedule is a jam-packed week of day and night time events and parties, with rum and food trails across the island also. Renowned British Chef Andrew Pern, of the Michelin starred The Star Inn, will be on the island at Cobbler's Cove where he will be delighting guests with great Bajan fare. foodwinerum.com
Run Barbados Series – 4-6 December 2015
The Run Barbados Series of events comprises a 3k, 5k, 10k, Fun Mile run and walk, and a half-marathon. Following each runner's designated race, participants can dive into the therapeutic waters of the gorgeous Caribbean Sea with the whole event culminating with a spectacular beach party on the 6 December. For visitors who are there to support loved ones in the races where will also be an abundance of events and activities on to keep them entertained. runbarbados.org
Classical Pops – 10-13 December 2015
Returning for its second year, the world-renowned musical collaboration festival Classical Pops comes back to Barbados this December for one final hurrah in 2015! Members from some of the world's most esteemed orchestras will travel to Barbados to perform classical-pop mash-ups for lucky visitors. classicalpops.com
For more information on the latest news and exciting events in Barbados, visit visitbarbados.org.