10 of the World's Largest Casinos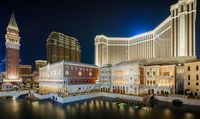 Bigger isn't always better, but sometimes it definitely is. In the case of casinos, there's no denying the allure of the world's most ostentatious venues. From the star-studded Strip in Las Vegas to the heart of magical Macau, the world's biggest casinos entertain tens of millions of people each day.
As for the biggest of all, the following front-runners guarantee a truly jaw-dropping experience. But before venturing out to one of these amazing casinos, it's recommended to practice online first with the many minimum deposit casinos available to try out.
1. Casino Estoril (Lisbon, Portugal)
Boasting an impressive size of approximately 27,000 square feet, Casino Estoril inspired the iconic Casino Royale novel. With around 1,200 games to choose from and close to a dozen bars and restaurants, it's currently the biggest casino in Europe.
2. MGM Grand Las Vegas (Las Vegas, United States)
A true leviathan that needs no introduction, the MGM Grand occupies a whopping 171,000 square feet of prime Vegas real estate. All of which encompasses around 2,700 games and 27 fabulous bars and restaurants.
3. Trilenium Casino (Buenos Aires, Argentina)
Even larger still is the Trilenium Casino, which is the biggest gaming hall in South America by a considerable margin. 180,000 square feet and five of the most renowned restaurants in the province as an added bonus.
4. Crown Casino (Melbourne, Australia)
You can't help but be impressed by the sheer size and grandeur of Australia's Crown Casino. More than 3,000 games, approximately 50 bars and restaurants and an establishment that extends across around 220,000 square feet of floor space.
5. Rio Casino Resort (Klerksdorp, South Africa)
South Africa's entry to the list comes in the form of Rio Casino Resort, which following several recent expansions now measures in at just over 266,000 square feet. Along with hundreds of slots and table games, it also plays host to a go-karting track.
6. MGM Grand Macau (Macau, China)
The MGM Grand over in China towers over its counterpart in Vegas, with an extraordinary 267,000 square feet of floor space and around 1,500 games. Not to mention, a rather imposing aquarium filled with around 1,000 fish and a handful of sharks.
7. Casino Ponte 16 (Macau, China)
A truly ostentatious affair targeting the most affluent of audiences, Ponte 16 has a comparatively modest 470 games, yet extends across more than 270,000 square feet of premium Macau real estate.
8. Foxwoods Resort Casino (Ledyard, United States)
If you thought the biggest casinos in North America were in Atlanta City or Las Vegas, think again. In reality, Foxwoods Resort Casino in Ledyard is the biggest by far, with around 340,000 square feet of floor space and close to 8,000 games.
9. City of Dreams Casino (Macau, China)
The City of Dreams Casino lives up to its name in every conceivable way. Around 2,000 games, 32 on-site bars and restaurants and close to 450,000 square feet of floor space to explore. Absolutely everything at the City of Dreams Casino is completely over-the-top…exactly as it should be!
10. The Venetian Macau (Macau, China)
Last but not least, The Venetian Macau continues to top the table as the biggest casino in the world by a sizeable margin. Almost 550,000 square feet of floor space, more than 4000 games to check out and a 15,000-seat indoor arena - all connected with a 3,000-room luxury hotel for added convenience.