Adventure by land, air or sea in the region of Valencia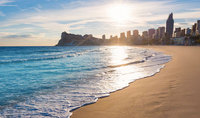 For lovers of adventure, the Region of Valencia is primed for outdoor pursuits. Hike scenic routes on approved footpaths or tour the countryside on two wheels. Get close to the coast or fly high in the sky in hot air balloons. Whether by land, air or sea, the destination offers thrilling activities for all fitness levels. Get started with these suggestions…
Lace up your hiking boots.
Hiking is one of the best ways to explore the Region of Valencia. Over 5,000km of certified trails wind their way from popular spots to the most scenic locations.
History buffs can experience the Region of Valencia's rich culture by following the markers of historical paths, such as the Way of the Cid (Camino del Cid), the Saint James' Way of the Levant (Camino de Santiago de Levante) or the Route of Monasteries (Ruta dels Monestirs).
You can also take your pick from short range (SR) and local trails (LT) to long range (LR) trails that allow you to carry out hikes of over a day. No matter the choice, each trail allows you to discover the natural beauty of the region by the beat of your own two feet.
Take a tour on two wheels.
Thanks to its diverse terrain, the Region of Valencia offers near endless possibilities for cyclists with thousands of miles of mountain trails, country paths, historical greenways and bicycle roads.
If your passion is mountain biking, the rugged terrain surrounding Alicante has all the dirt, mud, slopes and sinuous paths you could want. As you tour the most beautiful locations, be sure to stop at BTT Centres throughout the region. Each centre offers a minimum of 100km of circuits, perfectly mapped out and signposted. Bicycle and equipment hire, information points and support services are also available.
Beyond the mountain trails, you can enjoy cycling in all its forms. Ride through traditional Spanish villages or bustling cities at your heart's desire. A great place to start is the Via Augusta, a road dating back to the Roman Empire.
Get close to the coast.
To all watersports enthusiasts, the Region of Valencia presents 450km of pristine coastline. You can easily find calm, warm water with excellent access to sandy beaches, rocky coves and wide bays, which provide great conditions for surfing, diving and sailing. In fact, the region's marinas are among the best in Europe, as demonstrated by their capacity to host prestigious sporting events such as the America's Cup in Valencia and the departure of the Volvo Ocean Race in Alicante.
The region's coastal towns and resorts have many accommodation options, while specialist schools and tour companies are ready to help you have a great time surfing, sailing, canoeing, and a whole host of other activities you've always wanted to try.
For a one-of-a-kind learning experience, check out the Las Antípodas sailing school in the calm inlet of Peñon de Ifac. It offers classes and hires out catamarans, windsurfing boards, sea kayaks and wakeboards. In summer, you can kayak either in the morning or at night if there is a full moon. On weekends, in spring and autumn, they organise catamaran crossings between Xàbia and Altea.
Discover the destination from the sky.
For adrenaline junkies, the Region of Valencia is best seen with a bird's eye view. And with so much to discover throughout the destination, you can't go wrong with a hot air balloon ride.
This activity is enjoyable year-round and suitable for all types of people. Excursions typically last an hour, during which you'll fly at different altitudes depending on the surrounding landscape.
Cross the fertile Sierra de Mariola between Valencia and Alicante. Drift gently above the colourful terraces and scattered rocks of the Sierra Aitana. Or soar above the palm gardens of Elche, a UNESCO World Heritage Site. Whatever you do, expect the best views across Spain.
Ready for your next adventure? Find out more about the exciting activities you can enjoy in the Region of Valencia at en.comunitatvalenciana.com/what-to-do/active-tourism.