Mercedes-Benz and smart dealers take the lead on EVs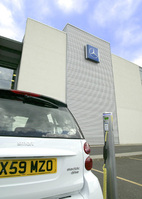 Mercedes-Benz and smart are preparing for the widespread uptake of electric vehicles (EVs) in the UK by beginning the installation of recharging points across their dealer networks. So far 20 Elektrobay recharging units, produced in the UK by Brighton-based Elektromotive, have been installed at seven locations as part of a pilot project, and further expansion of the initiative is planned later this year.
smart will be starting public trials of the latest version of the zero emission, smart electric drive later this summer. The Elektrobays have been given designated charging bays at Mercedes-Benz / smart sites and can be used now by motorists involved in the smart fortwo electric drive trial.
So far three units have been installed at Mercedes-Benz World in Weybridge, Surrey, a further three at the Mercedes-Benz UK in Milton Keynes, four at the flagship Mercedes-Benz dealership in Brentford, seven at three Mercedes-Benz dealerships in the Midlands, and three outside the showroom on Edgware Road, London.
All of the installation work has been undertaken by Vinci Energies United Kingdom, which is partnering with Elektromotive to deploy an infrastructure in the UK capable of charging electric vehicles whenever they are stationary at home, in public car parks, at the kerbside and at the workplace.
"Electric vehicles will form an increasingly important part of our product development plans, and it is crucial that we put in place a recharging infrastructure to help our dealers and customers join the zero-emission revolution," commented Dermot Kelly, Managing Director Mercedes-Benz Cars. "Elektromotive is the natural partner for this project, and we are delighted with the work that they have done so far in getting the Elektrobay recharging points up and running."
Calvey Taylor-Haw, Managing Director of Elektromotive, adds: "This is the first time that Elektromotive has worked so closely with a vehicle manufacturer to install Elektrobays at dealerships. It is an exciting and important development in the creation of a nationwide recharging infrastructure, and is an approach we expect to be copied by other car makers and their retail networks in the UK and beyond."