Vauxhall Insignia Sports Tourer 4x4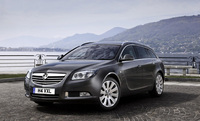 Since the Insignia hit UK showrooms at the start of 2009 it has been a resounding sales success for Vauxhall, with more than 55,000 cars sold in the last 18 months. Premium design cues, the choice of all-wheel-drive models and a raft of new technology in its sector has elevated its appeal to not only fleet customers, but also to retail buyers, who now account for 35 per cent of all sales – a 16 per cent improvement over the Vectra.
There has also been a significant increase in the number of upper-trim Insignias sold, such as the SRi, SE and Elite models (over 60 per cent) supporting the fact that Vauxhall is now seen as a viable alternative to more traditional premium cars in the mid-size sector, albeit at a lower price point.
And with some 40 awards now behind it – including the coveted European Car of the Year 2009 – it's no surprise that UKbuyers made it the best-selling mid-size car soon after its launch in what isEurope's biggest single market for Insignia. But we weren't alone: the Insignia has also become the best-selling or second-best selling mid-size car in 10 other European markets too.
To further boost the Insignia's competitive position, Vauxhall has now combined the Insignia's Adaptive 4x4 system, which was previously only available with the 2.0- and 2.8-litre petrol engines, with the 2.0-litre 160PS CDTi diesel engine. A rare combination in this market sector, the Insignia CDTi 4x4 hits British showrooms in September this year and will build Vauxhall's reputation for technological innovation still further. Moreover, engineers have made refinements on all diesel engines to further improve interior refinement.
The Adaptive 4x4 all-wheel drive system, together with the adaptive FlexRide chassis and the electronically controlled rear limited slip differential (eLSD), sets new standards for driving and handling. Studies show Insignia customers particularly value this innovation: Some 21 per cent of all 2.0-litre petrol models currently sold in the UKhave the Adaptive 4x4 system.
Adaptive 4x4 combines the best characteristics of conventional mechanical and hydraulic all-wheel drive systems, and means that the driven wheels don't have to spin before corrective measures kick in. The Insignia Adaptive 4x4 can still maintain safe traction even if three wheels are on sand or mud and only one rear wheel can find grip. In bad weather or on treacherous roads, the advanced chassis systems are designed to recognise and avoid danger early enough to support the driver in tricky situations, without detracting from the car's dynamic appeal.
The Vauxhall Adaptive 4x4 system not only helps out in critical safety situations. It also detects when all-wheel-drive is not required, such as on a dry, clear motorway, and reverts to front-wheel-drive to reduce friction loss and save fuel.
Award-winning innovative technologies
Adaptive 4x4 is only one of many intelligent technologies offered in all Insignia models. Intelligent Adaptive Forward Lighting with its bi-xenon headlights that can adapt to different road conditions using nine unique lighting functions, has won awards for its safety and innovation. Some 35 per cent of UKbuyers have also opted for the Ergonomic Sport Seats, certified by orthopedic specialists, Action for Healthy Backs.
And for those buyers who tow caravans or trailers, the Insignia's Retractable Trailer Hitch has proved a popular option. Featuring Trailer Stability Assist, which helps protect against pendulum swings, once the trailer is no longer needed the hitch can be simply folded away, keeping the elegant design of the Insignia intact.
Sports Tourer: Premium design and functionality combined
The Insignia Sports Tourer has many useful features, like a power tailgate with programmable opening height, Automatic Self Levelling Rear Suspension (standard with Towing Pack) and the familiar FlexOrganizer cargo management system. The completely flat luggage compartment has a capacity of 540 to 1,530 litres. The result is a stylish estate car that artfully conceals its high utility value.
The upscale design is echoed in the interior cabin which incorporates many high-quality materials. Keeping the styling contemporary, Vauxhall is offering two new trims. The Indian Summer interior offers premium, high quality, Nappa leather in a warm shade, complemented by elegant Cashmerestitching.
A further trim level will also be available in the UK, called SRi Vx-Line. This features a VXR-style sport leather steering wheel and gearshift gaiter, along with 19-inch, five-spoke alloys.
CHASSIS
Adaptive 4x4: combining dynamic excellence with all-weather security
Sophisticated all-wheel drive system at the top of its class
Adaptive FlexRide chassis system adds driver involvement and dynamic efficiency
One of many innovative technologies offered in Vauxhall's mid-sized car
The award-winning Vauxhall Insignia saloon, hatch and Sports Tourer feature sophisticated innovations, like the Adaptive 4x4 system, which were previously only available in much more expensive sports cars or luxury saloons. Together with the FlexRide chassis and the electronic-hydraulic multi-disk clutch, the Adaptive 4x4 system sets new standards for its controls' reaction times.
These are features Insignia owners already appreciate: sales analysis shows that 21 per cent of all 2.0-litre Insignias sold to date have been 4x4 models. Due to this demand, the Insignia saloon, hatch and Sports Tourers now couple the intelligent 4x4 with a 160PS 2-litre turbo diesel, available in UK showrooms this September.
The Adaptive 4x4 is perfect for hauling trailers and for anyone living in regions with inclement weather who has to travel regardless of the rain or snow. If the Sports Tourer model is ordered with a trailer hook, the standard Electronic Stability Program (ESP) system will also feature a Trailer Stability Assist program, which counters vehicle instability that may occur when towing a trailer or caravan. It does this by reducing engine torque and applying brake pressure to selected wheels when needed. The Towing Pack also features Automatic Self-leveling rear suspension which maintains a constant rear ride height when load-carrying or towing.
FlexRide improves stability – and driving pleasure
FlexRide comes as standard with Vauxhall's fully integrated Adaptive 4x4 chassis system which improves stability and provides real time, electronically controlled damping. FlexRide gives the driver the choice between three driving modes. In addition to the standard adaptive mode, the driver can either opt for a comfort-oriented "Tour" or a "Sport" setting. The Sport mode makes the Insignia Sports Tourer driving experience more active, changing the set-up of interlinked functions such as the steering, throttle control and even the ambient lighting of the dashboard.
The Insignia's all-wheel drive system is among the most sophisticated systems on the market. The Adaptive 4x4 control unit is fully networked with the Insignia's other control systems - the ESP sensors, the steering angle sensor and accelerator pedal position - to adapt power distribution to prevailing driving conditions.
In contrast, the FlexRide system in the Insignia VXR deliberately caters for the enthusiastic driver. The standard mode delivers ideal all-round performance combined with comfort characteristics suitable for everyday driving. In the "Sport "mode, the chassis suspension stiffens, reducing body roll for more agility. The "VXR" mode provides the ultimate experience: more direct steering, a more responsive throttle and the chassis settings focus on optimal efficiency while dials illuminate in red. The four-wheel drive management unit has also been recalibrated to allow more torque to be sent to the rear wheels.
All-wheel drive electronics act as early-warning system
A big advantage of Vauxhall's all-wheel drive system is that wheels don't have to spin before the proper corrective measures are introduced. When the sensors detect a critical situation, it only takes around 80 milliseconds – the blink of an eye – for the system to send the required power distribution to the wheels. The power can be distributed seamlessly between the front and rear axle or between the rear wheels. In contrast to conventional mechanical all-wheel drives, the hydraulic controls enable lightning-quick reaction and intervention.
The all-wheel drive system constantly receives updates from three modules called Body Control Module (BCM), Engine Control Unit (ECU) and the ESP. The car's system analyses the information and distributes torque individually to the wheels, as needed.
For ultimate stability and performance, the Adaptive 4x4 all-wheel drive system is equipped as standard with an electronically controlled Limited Slip Differential (eLSD). The eLSD electronically controls the distribution of torque between the left and right rear wheels, transferring rear axle torque to the wheel that has the most grip. While offering better traction in slippery conditions, the sophisticated operation of the Adaptive 4x4 improves stability in all situations
The Insignia 4x4's power distribution travels from the front axle differential to a hydraulic Haldex multi-disk clutch, which electronically distributes the torque as required. This can be from zero to 100 percent between the front and rear axle. In the rear, power is distributed by a hydraulic multi-disk clutch which can transfer nearly 100 percent of the power to one rear wheel if required. This gives drivers the confidence that their Insignia 4x4 can still maintain safe traction even if three wheels are on sand or mud and only one rear wheel can find grip.
The modules receive their signals from sensors that capture yaw rate, acceleration, steering angle, wheel speed, throttle pedal position, engine speed and torque, and adapt power distribution to the driving situation based on this information. Even before take-off, the control module receives information on throttle pedal position and engine speed and is able to transfer torque between the front and rear axle to prevent the car losing traction.
Bad roads, rain and mud call for stability and control
Many drivers have experienced the feeling of picking up too much downhill speed, so they take their foot off the throttle only to realize their vehicle is struggling to follow the steering direction. The Insignia's Adaptive 4x4 system uses a complex sensor system, to redirect power to individual wheels when the engine is slowing down (drag torque) as a result of releasing the accelerator. This allows drivers to steer more accurately and keep control of the vehicle.
Thanks to the many control options like torque and braking torque distribution and FlexRide damper control, the adaptive all-wheel drive system handles many critical driving situations without the need for ESP. which stays in the background as a 'guardian angel'.
Front-wheel-drive employed where conditions permit
The Opel Insignia Adaptive 4x4 system not only helps out in tricky safety situations, it also detects when no external conditions require special intervention, such as travelling on a motorway. In this case the system switches off the rear-wheel drive system and reverts to front-wheel drive to reduce friction loss and save fuel.
POWERTRAIN
Diesel joins Vauxhall's Insignia 4x4 line up
First Vauxhall passenger car to combine diesel and all-wheel drive
Strong performance: 2.0 CDTi develops 160PS
Reduced emissions and improved fuel consumption
All-wheel drive offered on two petrol variants since launch
Vauxhall's active all-wheel drive system has been one of the many success stories since the Insignia was launched. Now it has added a 2.0 CDTi turbo with this advanced technology, combining the benefits of a diesel with the safety and handling from all-wheel drive. The Insignia 4x4 CDTi is the first Vauxhall to feature this combination of technologies.
The Insignia is available with a large range of engines, all certified to Euro 5 standards. The four petrol engines range from 140PS to 325PS. The two variants of the 2.0 CDTi turbo diesel offer output ranging from 130PS to 160PS. In addition, the ecoFLEX model developed from the 160PS variant offers remarkably low fuel consumption and CO2 emissions. All diesel engines have undergone substantial NVH improvements for this model year to enhance overall refinement and passenger comfort.
Since launch, the Adaptive 4x4 transmission was available as an alternative to front-wheel drive only in the 2.0 Turbo petrol engine (220PS).The offer now extends to the 160PS 2.0 CDTi. In addition, the Adaptive 4x4 will remain standard on the 260PS 2.8 V6 Turbo and 325PS VXR models.
The first Vauxhall passenger car to combine all-wheel-drive and diesel
The 2.0 CDTi engine produces 160PS at 4,000rpm, with maximum torque at 350Nm (up to 380Nm with overboost) at a low 1,750rpm. This top-of-the-line diesel accelerates to 60mph in 9.8 seconds and allows a top speed of 130mph yet boasts a combined fuel consumption of just 47.1mpg on the Sports Tourer 4x4. The engine is available with a 6-speed manual or automatic transmission.
The 2.0 CDTi engine uses a common-rail injection system working at pressures up to 1,600 bars. It delivers fuel through high-precision, electro-magnetically-controlled injector nozzles that allow up to five injections per stroke, enabling extremely precise combustion control in terms of noise and exhaust emissions. The standard, maintenance-free diesel particulate filter located close to the engine provides effective after-treatment of the exhaust gas.
The engine features Vauxhall's highly innovative "Clean tech" combustion concept that was launched on the ecoFLEX models in 2009. By using in-cylinder pressure sensors for the combustion control, the combustion process is perfectly optimised. The result is an impressive reduction of NOx and root particulates, while reaching optimal fuel economy.
Other features include twin overhead camshafts, four valves per cylinder, multiple direct fuel-injection and a variable geometry turbocharger for high torque and a rapid throttle response at low rpm. A dual mass flywheel ensures minimum vibration and the weight-optimised intake manifold is made of plastic. The electronically controlled exhaust gas recirculation has a variable cooling function. Electro-pneumatically operated bypass flaps are controlled by the engine management system to ensure that the re-circulated exhaust gas reaches an optimum temperature for combustion.