Garmin GPSMAP 62 - Take it to the extreme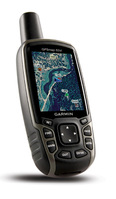 Garmin, the global leader in satellite navigation, has announced the GPSMAP 62 series of rugged handheld GPS devices. These tough, robust navigators introduce a sleek updated look, enhanced mapping options and many technical innovations to the GPSMAP 60 range admired and trusted by adventurers, hikers and geocachers of all ages.
"The GPSMAP 60 series has been one of our most popular product lines, and the new GPSMAP 62 series improves the form and functionality to make a best-in-class device even better," said Andrew Silver, Garmin's Outdoor Product Manager. "Whether you've been using Garmin for years or are buying your first handheld, GPSMAP 62 is ideal as it combines our new innovation in GPS handheld technology with the popular and reliable features of a proven performer."
Boasting a 2.6-inch sunlight-readable colour display, up to 20 hours of battery life and a high-sensitivity GPS receiver plus quad helix antenna for unparalleled reception, the GPSMAP 62 series includes three distinct waterproof models to suit various activities and interests. The basic GPSMAP 62 includes a built-in worldwide basemap with shaded relief. The GPSMAP 62s adds a 3-axis tilt-compensated electronic compass and wireless connectivity for sharing routes, tracks, waypoints and geocaches between other compatible Garmin handhelds. GPSMAP 62s also features a barometric altimeter that tracks changes in pressure to pinpoint your precise altitude. Users can also plot barometric pressure over time, to keep an eye on changing weather conditions. In addition, GPSMAP 62st includes preloaded 1:100,000 scale recreational mapping with street-level detail, elevation contours, points of interest and land use descriptions for more than 33 countries across Europe. In addition, you can search for points of interest by name or proximity to your location and view descriptive details for terrain contours, topo elevations, summits and geographical points.
For more detailed mapping on your handheld, Garmin GB Discoverer is available to buy on a microSD card. It is available in 1:50k (the same scale as Ordnance Survey Landranger maps) for the whole of Great Britain and 1:25k (the same scale as Ordnance Survey Explorer maps) for national parks and trails. When used on your Garmin Handheld it offers all the benefits of traditional paper maps including contours, boundary identification and public rights of way, with the added bonus of turn-by-turn navigation as you drive including directions to thousands of points of interest. Garmin EIRE Discoverer is also available for the Republic of Ireland. Visit garmin.com//garmin/cms/site/uk/mappingsolutions to find out more about Garmin GB Discoverer and the many TOPO map titles covering popular destinations throughout Europe.
The GPSMAP 62 series is also compatible with a host of other useful applications. Garmin's subscription-based BirdsEye Satellite Imagery, can transfer high-resolution satellite images to their handheld and seamlessly integrate those images into the built-in mapping for a true representation of their surroundings. More details can be found at garmin.com/birdseyesatimagery.
Garmin's free Custom Maps can be used to transfer paper or digital maps onto the GPSMAP 62. Details, labels and landmarks of existing maps, such as ski piste routes or mountain bike trails are just two examples that can be put onto your handheld so you can navigate with them. More details can be found at garmin.com/CustomMaps
And when you've finished your adventure, the free online community at Garmin Connect (garminconnect.com) enables you to store, analyse, and share where you've been. Outdoor and fitness enthusiasts alike can share activities on Facebook and Twitter, export to Google Earth or relive the activity in table view, calendar view or on a variety of maps including our new embedded Google Earth view.
The GPSMAP 62 series even offers paperless geocaching enabling you to quickly download cache information directly to the device. See garmin.com/geocaching.
Each device in the GPSMAP 62 series has a high-sensitivity GPS receiver with HotFix, which automatically calculates and stores critical satellite information to quickly calculate a position. The GPSMAP 62 series is made even more versatile through its universal mounting system, compatible with the same accessories as Garmin's Oregon, Dakota and Colorado products. Other key upgrades include photo navigation and onboard memory for downloading maps.