More than just hinge benefits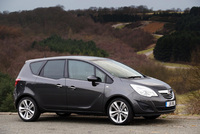 Putting your back into it will be something of the past with Vauxhall's New Meriva, as scientific research proves it is the first car that can actually help reduce back strain and harmful twisting motions.
The New Meriva's benefits are the result of its groundbreaking rear-hinged back doors - the revolutionary FlexDoors. Similar to those seen on the iconic London black cab, the FlexDoors provide easy access to the rear seats, making entering and exiting the car and lifting objects in and out effortless – ideal for parents with little ones, and for the older generation.
To prove the benefits of the New Meriva, Vauxhall commissioned research with a biomechanical research team from Coventry University. The team rigorously tested motions mimicking everyday actions that drivers - in particular parents - will carry out, such as handling bags of shopping and fitting/removing baby seats. The results will certainly make people sit up straight: the New Meriva ensures that twists in the back are reduced by up to 48% compared to a car with standard doors, while the loads put on the muscles are up to 58% lower.
Dr James Shippen of Coventry University, who headed the research, comments: "With this research we wanted to prove that the New Meriva could actually help the physical wellbeing of drivers everywhere. The results speak for themselves - you'll be putting significantly less strain on your back with this car."
The New Meriva comes at a time when more and more Brits are injuring their backs, with 80% of us suffering back pain at some point in our lives and one in six working days are taken as sick days due to a bad back.
According to physiotherapist, Joshua Wies: "Back injuries are arguably the most frequent injuries experienced by people in this country. With the lives we lead nowadays we're often putting enormous pressure on our spine and back muscles, and it doesn't take much for a small strain to lead to a serious problem. A car like the New Meriva is ideal for helping reduce the risk of injury in everyday life, especially for those more prone to back strains, like the elderly and parents with young kids."
Vauxhall's New Meriva is available to purchase now. For further information please visit vauxhall.co.uk/meriva