Clio Cup curtain-raiser thrills Brands Hatch crowds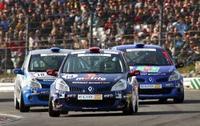 Spectacular racing action wowed huge crowds at Kent's Brands Hatch Indy circuit as round one of the ELF Renault Clio Cup lived up to exciting expectations. A capacity grid of 32 brand new cars lined up for round one on Sunday, 1st April as the series boasts the largest entry list since Clio Cup racing began in the UK in 1991.
A total of 43 cars entered the first round, with two timed qualifying sessions and two qualification races required on Saturday, 31st March to narrow the field to the 32 starters permitted by the circuit. Clio Cup racing is renowned for its wheel-to-wheel action and daring overtaking moves. The class of 2007 ensured the season made a breathtaking start with thrilling action throughout before Mardi Gras Motorsport's Ed Pead (Northampton) emerged victorious. In a fascinating twist, Mardi Gras Motorsport also won the very first race of a new championship when the Renault Sport Spider Cup was launched in 1996.
The 2007 championship sees the debut of New Clio Cup, a 2.0-litre, 205hp pure racer, which is based on the road-going Clio Renaultsport 197 with obvious race car changes of a stripped-out interior, roll cage and specifically designed six-speed sequential gearbox. At a cost of just £20,500+VAT, the car represents fantastic value and delivers memorable racing at each of the 10 race meetings held at circuits across the UK. Such is the car's appeal that several have even been bought by private enthusiasts for trackdays.
Pead qualified on NGK Laser Platinum pole position under the new format and made full use of the clear track in front him to open a one second lead by the midway point of the 20-lap race. A brief Safety Car period was needed to recover two cars that ran wide at Druids Hairpin but Pead quickly re-established his advantage to claim victory by 2.261s. Team Eurotech-John Guest Speedfit's Andrew Jordan (Sutton Coldfield) was second on his debut, with JHR Developments' Robert Lawson (Richmond, N Yorks) in third.
Commenting on the honour of winning the first race in the stunning New Clio Cup, Pead, who is sponsored by Renault Aftersales, said: "This is my fourth season in the ELF Renault Clio Cup and it's fantastic to win the very first race with the new car. Renault Aftersales has put their faith in me this season and I'm delighted to repay that with this win and hopefully there will be many more to come during the season."
Renault UK's Motorsport Director, Tim Jackson, commented: "Sunday's race was the culmination of a challenging long-term project. From the moment we received 30 deposits for the car at the UK launch in July 2006, anticipation has been building towards this first event. The race was as spectacular as Clio Cup fans have come to expect and a fantastic advert for the championship."
Renault UK has a history of one-make saloon-car racing dating back to 1974 when Renault 5 TL cars were raced. Subsequent years saw Renault 5 TS, Renault 5 GT Turbo, Renault Clio Mark I, Renault Sport Spider, Clio Renaultsport 172 and Clio Renaultsport 182 cars take to the track, preceding the launch of New Clio Cup.
The second Clio Cup race meeting will be held at Rockingham Motor Speedway on 21st/22nd April.
View the action online
In a pioneering move, the whole of Sunday's race is available to view online at Renault Sport UK's official website renaultsport.co.uk. No other championship offers this groundbreaking facility, which enables drivers, teams and most importantly fans to enjoy the action. The footage is produced by ITV Sport, with race commentary and real-time graphics. All races are intended to be made available in this way throughout 2007. Broadband connection speed is recommended and the latest Adobe Flash Player is required.