Renault iCare - Maintenance solution for van customers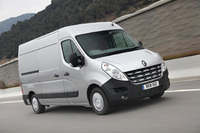 Renault has launched Renault iCare, an innovative maintenance system designed specifically for the modern commercial vehicle user, whether a one van operator or larger fleet, to ensure down time is kept to a minimum and compliance legislation is fully adhered to.
A pro-actively managed service, maintenance and repair system, Renault iCare uses telematics to provide "pay-as-you-earn" pricing and hands-free communication with the driver.
Each vehicle is fitted with a four-way communication button, with one button providing the driver with direct access to Renault Assistance whenever help is required. The Renault iCare call centre is available 24 hours a day, seven days per week to immediately direct the call to the appropriate support service, whether the AA for breakdowns, Renault Accident Support Line, tyre assistance, or windscreens. The other three buttons are assigned to Renault iCare for operational and administrative support, the emergency services and one of the customer's choosing, usually his or her fleet manager.
Renault iCare ensures the customer's Renault van is maintained on time by monitoring the vehicle age and mileage and advising the driver when the next service or MOT is required. The service booking is then arranged by Renault iCare with the nearest approved Renault dealer and fully managed whilst the vehicle is off road to reduce down time to a minimum.
At a time when fleets are keeping an eye on costs, Renault iCare gives increased flexibility as it is charged monthly in arrears on a simple 'pence per mile' basis monitored remotely by telematics, which means that fleets only need to pay for the mileage that has actually been covered.
All routine servicing, maintenance and repairs are included in a pre-determined 'pence per mile' rate with the option to include all tyres (fair wear and tear only) for the life of the agreement. On New Master for example, the cost excluding tyres, based on up to three years and 100,000 miles would be 4.5p per mile, with a one-off charge in the region of £160 for the installation of the telematics and four-way communication package which can also provide stolen vehicle tracking for an additional fee of £135 + VAT per annum.
This eliminates the need to estimate the mileage, ensuring that there are no excess mileage charges at the end of the contract term, plus fleets need not administer 'pooled mileages', move vehicles within their operation to even out the mileages or pay for mileage that hasn't been covered.
Based on the vehicle mileage (or time if applicable) Renault iCare will:
Automatically and pro actively co-ordinate the vehicles routine servicing and MOT through the Renault dealer network, allowing the operator to concentrate on their business.
Manage the repairs required for any defects reported, whether during or between any routine servicing.
Maintain electronic copies of all service, maintenance and repair work carried out, plus MOT documents to ensure the vehicle is compliant with legislation.
For vehicles greater than 3.5T GVW, the fully fleet managed Service, Maintenance and Repair packages also include compliance and document management with regard to Operator Licence obligations.
Renault UK's Darren Payne, Director, Fleet and Commercial Vehicle Operations, said, "We are proud to launch this pay-as-you-earn maintenance system for Renault van drivers and fleets.
"Renault iCare allows you to enjoy a comprehensive, pro-actively managed maintenance package with the advantage that you only have to pay for the mileage that is actually covered, giving van operators a helping hand with spreading running costs, budgeting and giving them peace of mind."
Renault iCare is only available on the Renault commercial vehicle range, Kangoo Van, Trafic and New Master from new, or on vehicles that have covered less than 12,000 miles and are under 12 months old.