Cleaner Insignias - More hush, same rush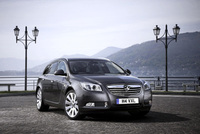 Vauxhall has made sizeable reductions in C02s and fuel consumption to key models in its European Car of the Year-winning Insignia range, meaning that customers now benefit from combined emissions as low as 129g/km.
While changes to the Insignia's 2.0-litre Turbo engine have yielded a near-five per cent drop in emissions on the Sports Tourer, thanks to improvements made to the engine's engine management system, each of the Insignia's 2.0-litre diesel powerplants also become greener and less costly to run.
The Insignia ecoFLEX's emissions have now dropped from 136g/km to just 129g/km, with a corresponding improvement in fuel consumption from 54.3mpg combined, to 57.6mpg. This means that not only is the ecoFLEX cheaper to run, but since it falls under 130g/km, customers will pay no VED for the first year.
Insignia Sports Tourer ecoFLEX drivers also gain, with added efficiency gains meaning a drop in C02to 134g/km and fuel consumption of 55.4mpg, up from 53.3mpg. And no matter which ecoFLEX model buyers choose, power remains at 160PS, with torque a healthy 350Nm from 1750-2500rpm.
But Vauxhall's greenest Insignias aren't the only ones to benefit in the range. The 2.0 CDTi 160PS model now benefit from C02emissions of 144g/km (down from 154g/km), meaning 6.5 per cent lower fuel consumption for all drivers and a 2 per cent drop in BIK tax for company car users, down to 20 per cent for Hatch and Saloon variants.
And completing the revised engine line-up is the 130PS version of the 2.0 CCDTi, which thanks to an all-new turbocharger, emits combined C02emissions of just 136g/km – an 11.5 per cent reduction.
The latest revisions to the current range don't stop there, either. The Insignia's 2.0 CDTi engine now benefits from a raft of changes to reduce noise and vibrations in both 130PS and 160PS units. Engineers have designed a stiffer fixing between the injection pump and engine, while also reducing piston noise at all engine speeds. The addition of scissor gears to the cam-drive enhances engine refinement still further, while supplementary noise-absorbing foam shields complete the NVH package.
Despite the significant improvements in efficiency and refinement, the latest Insignias' on the road prices remains the same and all revised models can be ordered from today.