Infiniti tees off for children's charity Sparks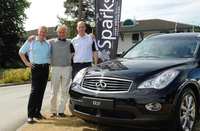 Infiniti, the luxury automotive brand from Japan, this week took to the golf course to help raise money for the children's charity, Sparks. The celebrity golf day at Camberley Heath Golf Club, Surrey, was supported through the Infiniti Centre Reading, the brand's inaugural dealership in the UK.
Infiniti put forward prizes for one-shot wonders including an FX50S performance crossover – a £50,000-plus prize for a hole-in-one on the 195 yard, par 3, 11th tee. Sadly, no one managed to bag the car; however, the company did offer an Infiniti for the weekend as one of the auction attractions which helped boost the fund-raising total.
"Supporting the celebrity golf day represents a great way to help Sparks which is a fantastic charity with a long history in investing in medical research for children," said Aftersales Manager, Ian Sharp who was representing Infiniti Centre Reading on the day.
Infiniti Centre Reading, one of the flagship centres for the fast-expanding European network, displayed a selection of models from the range for inspection by the 84 amateurs and celebrities who took part on the day, which was hosted by former National Hunt champion jockey John Francome MBE.
Infiniti's UK range currently comprises the G Saloon, Coupé and Convertible, the EX coupé crossover and FX performance crossover, and over the next few months is being joined by new diesel versions along with the all-new M Line of performance luxury saloons.