Vauxhall Meriva embraces full diesel line-up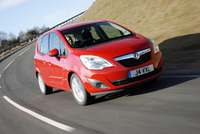 Vauxhall has completed the new Meriva's diesel engine line up with the addition of two ultra-efficient units that together boost the range's green credentials and offer yet more performance than before. This brings the total number of engines in the Meriva range to seven, comprising three petrol and four diesel units.
The first new addition is a 95PS 1.3 CDTi engine, which will power all Meriva ecoFLEX models. Featuring closed-loop combustion control, the 1.3 CDTi (95PS) uses a variable geometry turbocharger and is mated to a gearbox with taller ratios. As a result, the Meriva ecoFLEX's emissions drop to 119g/km and it achieves fuel consumption on the combined cycle of 62.8mpg – a 9 per cent improvement over the 1.3 CDTi engine in the Meriva's previous range. The 1.3 CDTi ecoFLEX joins the 1.3 CDTi (75PS), which was available from launch.
For those Meriva buyers after more performance, but who still require the efficiency and economy expected from a modern diesel, the new 1.7 CDTi (130PS) has all the answers. With up to 300Nm of torque available from 2000-2500rpm, the Meriva's most powerful diesel takes just 9.9 seconds to accelerate from 0-62mph and will hit a top speed of 121mph.
But brisk performance hasn't come at the expense of economy. On the combined cycle, the 1.7 CDTi (130PS) still achieves 54.3mpg and CO2 emissions of just 138g/km, made possible by a comprehensive package of efficiency upgrades. A variable geometry turbocharger has been fitted with position feedback sensor for more precise control of boost pressure. In addition, a new intake manifold reduces weight and an electrically controlled variable swirl system optimises combustion.
All 1.7 CDTi (130PS) Merivas have six speed manual gearboxes as standard and provide a more performance-focused alternative to the existing 1.7 CDTi (100PS), which is available as standard with a six-speed automatic transmission.
With its unique rear-hinged back doors (FlexDoors), FlexSpace seating and FlexRail storage systems the new Vauxhall Meriva has raised the bar in its class for accessibility, versatility and in-car stowage, while offering customers new levels of perceived quality and driveability in the compact MPV segment.
Pricing for Meriva's diesel models starts at £16,875 for the Meriva S 1.3 CDTi (75PS).