Iveco champion initiatives to benefit the environment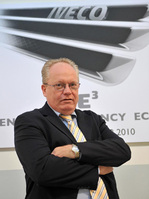 Iveco Senior Vice President, Medium and Heavy Commercial Vehicle Platforms, Sam Burman, presented a paper entitled, "Climate Friendly Commercial Vehicles for Tomorrow" at the VDA International Press Workshop on 9 July 2010 in Frankfurt. The event is traditionally held before the IAA Commercial Vehicle Show, which will take place in Hanover from 23 to 30 September 2010.
The primary message from Burman related to the need for sound scientifically based technical regulations, backed up by in-depth impact assessments, outlining the future path for road transport vehicles in addressing CO2 emissions.
He called for a European Industrial Policy in which research & development activities could be prioritised and funded centrally in place of individual Member State initiatives which he warned could be subject to national interests, and which could result in market distortions.
Burman also addressed the very slow rate of vehicle fleet renewal, which he warned is resulting in a disproportionate number of older vehicles still being in operation – consequently society isn't fully benefiting from the huge improvements in terms of low exhaust emissions and fuel economy that modern commercial vehicles offer. As part of the Industrial Policy, he proposed new purchasing incentives to aid the introduction of innovative technologies into the market at a European level.
Attention was also drawn to the fact that any new traction technology is likely to have an unladen vehicle weight higher than the equivalent diesel engine-mechanical transmission power train, which Burman said could detract from their appeal to fleet operators – despite their obvious environmental benefits.
He made reference to an initiative by French authorities to remove the weight of the traction batteries of electric and hybrid vehicles – together with the weight of the fuel tanks for natural gas vehicles from the gross vehicle weight calculation. This, he suggested, would help to remove one of the major purchasing obstacles facing fleets. Such legislative developments are also being studied by Spanish and Italian authorities, but Burman highlighted that action was required at a European level.