Renault upgrades its business customer services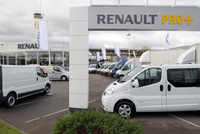 With a UK fleet sales performance so far this year nearly two and a half times greater than the same period last year, Renault is moving the game on still further with a series of improvements for its business customers under the banner, 'Renault Business Promise'.
The Renault Business Promise is founded upon five pillars to ensure Renault's level of service for its business customers matches the high levels of quality in its cars and vans. As a whole, they set out to ensure that business customers of every fleet size, benefit from the most complete care package offered by any manufacturer through a combination of warranty, recovery, servicing and delivery promises.
The ultimate aim of the changes, which are effective immediately, is to provide class-leading levels of service, reinforce the quality of Renault's range and reduce the cost of vehicle ownership.
RENAULT BUSINESS PROMISE
3 YEARS GUARANTEED MOBILITY
The first area of the Renault Business Promise, is the Business Customer Commitment. This consists of several commitments, designed to give absolute confidence and convenience to customers, whilst reinforcing the message that the company has full belief in the quality of its vehicles with its three years guaranteed mobility pledge. As part of the commitment, for one of four eventualities, a replacement car or van, like-for-like whenever possible, will be made available to keep businesses on the road.
The first circumstance is that the French marque commits to delivering a new vehicle by a set date, agreed at the time of ordering, and if it is not, then a loan vehicle will be dispatched in its place. Secondly, if the vehicle is recovered at the roadside. Thirdly, if parts are unavailable for longer than 24 hours and lastly, if a repair involves warranty work over three hours.
Renault's vehicle warranty, which at three years is already competitive in the market, includes cover up to 60,000 miles with unlimited mileage in the first two years, on every model in the range, with Laguna, Koleos, Espace and vans going up to 100,000 miles.
Renault Assistance
On top of this, roadside assistance has been enhanced from two years to three, including home and European cover. Given Renault's ever-increasing quality levels, in the unlikely event of a breakdown, a replacement car or van will be offered for up to three days.
Minimal downtime – for both the vehicle and the driver
As vehicles are at the heart of business operations, Renault's Business Promise aims to keep fleets on the road for as much time as possible when the time comes for service, maintenance and repair.
Service booking lead times will be guaranteed to be no longer than 48 hours for Pro+ dealerships and 72 hours for the rest of the network, with 120-minute 'Pit Stop' servicing on offer for routine service and maintenance. The company also continues to offer impressive 97% parts availability (2009).
Free wi-fi
With today's widespread laptop and smart phone ownership, free wi-fi will shortly be rolled out across most of the Renault network, so that every customer can look after their personal and business affairs even while they wait.
Transparent pricing
There will also be clearer pricing, with free fitment of items like screenwash, wiper blades and light bulbs at the time of service, plus no environment charges.
First Class service
Every dealership now has a business customer contact for both sales and service, who can be contacted with any queries.
Renault's pledge to offer first-class service to its business customers also comes in the form of an expanded customer services hotline, encompassing online enquiries and feedback too, with an additional two staff (increasing the team to six) employed to specifically look after businesses.
Courtesy vehicles are available (subject to availability) across the Renault network for service bookings. A wash and vacuum service will be undertaken with every routine service booking, plus free collection and delivery within a 20-mile radius for vehicles up to 3.5 tonnes (10 in urban areas).
Renault Accident Support Line (RASL)
Rounding off the impressive features is the Renault Accident Support Line which is available 24/7 and will assist and guide any driver in the event of an incident, regardless of fault.
Overall, each of these measures ensures that Renault offers the best business customer care package, beating competitors such as Ford, Peugeot, Vauxhall and Volkswagen.
Fleet Service Commitment
The second pillar, designed to attract primarily contract hire company business, is a new nationwide dealer maximum labour rate pricing structure across the full Renault network, split into three geographic and price bands. Priced from £49 to £62, the revised set-up will ensure that business customers are never charged more than their pre-set rate, regardless of which outlet they choose to use. The Fleet Service Commitment is available to 'Epyx 1Link' system users, or via contract hire and leasing companies using the system.
SMR (SERVICE, MAINTENANCE AND REPAIR) COST REDUCTION IMPROVEMENT
The third pillar of the Renault Business Promise focuses on reducing service, maintenance and repair costs for customers.
The first part of this is a lower cost interim service for higher mileage drivers, 20,000 miles per year. Available optionally, these services are carried out on odd-numbered service intervals, replacing a full Renault service, and reduce costs for the customer through shorter servicing times and by ensuring that essential safety and maintenance checks are not unnecessarily duplicated. Over 3 years/60,000 miles, this would save a customer £50 on servicing hour charges (based on a London labour rate of £62 per hour).
Service intervals have also been extended for several versions of the core 1.5 dCi engine with 86hp or lower, saving an additional £145 over 3 years/60,000 miles by removing one service over 60,000 miles. Instead of the previous 2 years/12,000 miles on Clio and Modus, this has become 2 years/13,000 miles, while on Kangoo car and van it has risen to 2 years/12,600 miles.
Cabin filters on 1.5 dCi 86-engined versions of Clio and Modus also now only require replacement every second service, saving a further £92. Completing the current series of improvements for SMR cost reduction is extended intervals (now 100,000 miles or 6 years) for coolant on Clio, Modus and Kangoo car and van models.
RENAULT I-CARE
The fourth area of the fleet service improvements revolves around Renault iCare, a new, innovative, fully-managed "pay-as-you-earn" service, maintenance and repair system for van customers. Launched this month, at a time when fleets are keeping an eye on costs, Renault iCare gives increased flexibility as it is charged monthly in arrears on a simple 'pence per mile' basis monitored remotely by telematics, which means that fleets only need to pay for the mileage that has actually been covered.
All routine servicing, maintenance and repairs are included in a pre-determined 'pence per mile' rate with the option to include all tyres (fair wear and tear only) for the life of the agreement. On New Master for example, the cost excluding tyres, based on up to three years and 100,000 miles would be 3.5p per mile, with a one-off charge of £170 excluding VAT for the installation of the telematics and four-way communication package which can also provide stolen vehicle tracking for an additional fee of £135 + VAT per annum.
Renault iCare is only available on the Renault commercial vehicle range, Kangoo Van, Trafic and New Master from new, or on Renault vans that have covered less than 12,000 miles and are under 12 months old.
RENAULT PRO+
The final element to Renault's Business Promise is the Renault Pro+ dealer network, which the company launched with its first site, Renault London West in Acton, at the end of 2009. Now, there are more than 15 such sites, with 25 due to be operational before the end of 2010.
To become a Renault Pro+ site, a dealership has to offer a wide range of services designed to appeal to, and simplify life for business customers. Among the commitments that each site offers are dedicated specialist sales and service advisors for business customers. In addition, they must provide extended service hours and specialist business areas with extensive displays of cars, panel vans and converted vehicles for test drives.
With the recent launch of its New Master van range in rear-wheel drive form, Renault Pro+ outlets can also accept vehicles up to seven tonnes, regardless of vehicle make.
Renault UK's Director, Fleet and Commercial Vehicle Operations, Darren Payne, said: "Over the last few months, we've taken a close look at the range and quality of services we've historically been able to offer our business customers. We've kept the needs of business customers firmly at the heart of the process, and as a result, we've launched our Renault Business Promise to keep fleets on the move. With the wealth of improvements in place, we now firmly believe that we offer the best and most flexible package of any manufacturer in the industry."
To reflect the fact that Renault sells its vehicles to a wide variety of operators, from small businesses to large corporate accounts, the name of its fleet department has been changed. With immediate effect, the previous Renault Corporate name will revert to Renault Business.
Underlining the breadth of changes to its services, whilst continuing the 'trust' theme of its current van advertising campaign with the strapline, 'Trust Europe's number one van manufacturer', Renault UK has decided to adopt a new strapline for its fleet service, 'Trust us to keep you moving'. This is to reflect the three years guaranteed mobility that the Renault Business Promise now offers.
For more information on all of the improvements to Renault Business, simply visit renaultbusiness.co.uk.