Allied Bakeries places major fleet order with Iveco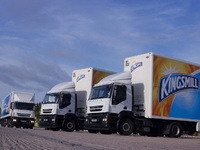 Allied Bakeries, a division of Associated British Foods plc, is taking delivery of 112 new Ivecos for its mixed fleet of 1,000 commercial vehicles. The order includes 42 Stralis Active Day tractor units and marks the first Stralis' to enter service with the bakery.
The 42 Stralis AD440S42T/P tractors are being joined by 70 Eurocargo rigids; including 28 7.5 tonne 75E16Ss for multi-drop urban distribution, plus four 14 tonne 140E22Ps and 38 18 tonne 180E25Ps for dedicated deliveries to large retailers.
Around one third of the new rigids (two 7.5 tonne, all four 14 tonne and 21 18 tonne models) feature Don Bur's latest 'Ecostream' teardrop bodies as part of a real-life trial to test the impact of the latest aerodynamic bodywork on fuel economy. The remaining rigids are mounted with regular Don Bur dry freight box bodies, which form the mainstay of the Allied Bakeries fleet. Together with the new tractors, they are expected to remain on the fleet for 11 years.
Chris Davies, Fleet Engineer at Allied Bakeries, which is famous for grocery brands including Allinson, Kingsmill and Sunblest, explains: "In 2009 we purchased 93 new Iveco Eurocargos and have been very impressed with their performance. This year we had a requirement for both rigids and tractors, so we trialled a Stralis demonstrator to compare it against similar vehicles from a number of other manufacturers.
"The Stralis demonstrator performed well and the commercial mathematics worked out in favour of Iveco," says Davies. "Plus of course the Eurocargo and Stralis models give us the benefit of engines meeting the stringent EEV (Enhanced Environmentally friendly Vehicle) emissions standard, which makes our fleet even greener than Euro 5.
"We're also hoping the teardrop bodies will help us to further drive down our carbon emissions. If it proves a success, we'll adopt this as the standard specification for future fleet orders," he adds.
As part of its procurement programme Allied Bakeries analysed the running costs of its nine year old Iveco EuroTech tractors and found they were in-line with what it pays to maintain similar vehicles from other manufacturers. This process also highlighted one particular EuroTech which had clocked-up a massive 1.8 million kilometres on its original Cursor engine – making it one of the highest mileage vehicles in the fleet.
The Stralis AD tractors – purpose-built for short-haul distribution – will be used for inter-bakery operations 24 hours a day, seven days a week. They join a fleet totalling 152 tractor units and are the first tractors purchased by Allied Bakeries since 2006. Supplied by Stormont Truck & Van, they are expected to cover between 80,000 and 100,000 miles a year during the first six years, before transferring to a lower mileage role within the fleet.
Allied Bakeries has specified each of the Stralis 4x2's with low profile tyres and a dual-height VBG fifth wheel. They are also delivered by Iveco with the air-suspension configured at a slightly reduced height, to provide an optimum set-up for operation with the company's double-deck trailers.
Each of the Stralis tractor units is powered by a 10.3 litre Cursor 10 engine which is capable of producing up to 420 hp between 1,500 and 2,100 rev/min and a peak torque of 1,900 Nm between 1,050 and 1,550 rev/min, driven through an automated EuroTronic gearbox.