Maserati once again partner of the Tuscan Sun Festival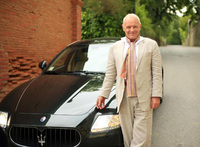 Just like last year, in 2010 Maserati is the Tuscan Sun Festival's Exclusive Festival Automobile Partner, and Maserati cars will be used to drive around the artists performing in the event.
The models used will be the Quattroporte with the 4.2 engine, a symbol of typical Italian style and elegance. The exclusive Quattroporte Awards Edition with its 4.7 engine, especially built to celebrate the forty-six recognitions the Trident's "admiral" - creator of the "luxury sport sedan" car class - has received from the world"s most prestigious magazines in four continents.
Then there's the new GranCabrio, the first "open top" Maserati that really seats four, establishing itself in the market immediately as leader in its class due to its qualities: comfort, spaciousness, safety and performance.
Maserati's presence in the Tuscan Sun Festival 2010 is a sign of continuity and of the desire to maintain the "privileged relationship" with the world of entertainment, music and art that Maserati has always had. Indeed, since the 50's, great international artists have been attracted to the elegance and sportiness of the cars with the Trident logo.
In the latest product press presentations, a red thread leading to classical music - as well as to cinema and to culture - has always connected these events.
From 30 July to 6 August, by now the Tuscan Sun Festival in Cortona has definitely set up house in the hearts of the public and the press as one of the most prestigious international festivals.

Founded and directed by Barrett Wissman, great stars often choose this Festival as the only Italian date to perform in every year. At its eighth year in Cortona, the Festival is also held in Napa Valley, California (in July) and in Singapore (in October).

After last year's success, which among so many guests boasted the presence of Anthony Hopkins - who witnessed the excellence of a festival featuring multi-disciplines - this year's festival is looking forward to the performances of Renée Fleming, Joshua Bell, Sting, Gabriele Lavia and other world-class artists.
Maserati is happy to participate in this important event showcasing the excellence of Italian craftsmanship and Italian industry through its fascinating range of automobiles.