Helsinki to host vintage fashion fair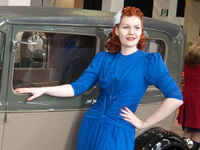 With the trend for vintage fashion still on the rise and celebrities including Mischa Barton and Kate Moss working the vintage vibe, style seekers are always on the lookout for the best places to hunt down a bargain. For those in the know, Helsinki has plenty to offer along the lines of vintage and second-hand shopping.

A parade of newly opened second-hand fashion stores and the vintage shopping fair 'Helsinki Vintage' means that Helsinki is right on trend when it comes to vintage style. Helsinki's downtown neighbourhoods of Punavuori, Kruunuhaka, Töölö and Kallio offer a good selection of vintage stores selling clothing, accessories, furniture and other decorative items.

With shopping second-hand considered an ecologically aware statement, the newest kids on the block; Vintage Babushka and Green Dress offer collections that will appeal to the fashion and ethical conscious!

Second-hand shopping for vintage-loving vigilantes

Organised twice a year, the Helsinki Vintage fair offers a nostalgic journey into bygone eras. The event gathers close to 50 of Finland's best vintage and second-hand dealers under one roof and the event is topped with a styling show, live music with a vintage twist, and an exhibition of vintage arcade games. The next vintage fair is organised on 27th September at Kaapelitehdas. For more information, visit: helsinkivintage.fi

Vintage Fashion Shopping Guide: Here is a list of selected vintage stores in Helsinki.

Vintage Babushka, vintagebabushka.com
A newcomer to Helsinki's shopping scene, Vintage Babushka is run by three friends with a long-lived passion for quality vintage apparel and accessories. Already with a strong following amongst the hip crowd of the vibrant Punavuori neighbourhood, Vintage Babushka shows seasonal collections, this fall's theme is Back to Black.
Address: Iso Roobertinkatu 42, Opening hours Wed-Fri 14-19, Sat 12-16

Green Dress, thegreendress.fi
Opened in spring 2009, the store's concept mixes high-quality vintage pieces from past seasons, custom-designed clothes made of recycled materials and ethical fashion labels as well as stylist and handbag rental services.
Address: Laivurinkatu 41, Opening hours: Tue-Fri 11-19, Sat 11-16

Ansa, vintageansa.blogspot.com
Ansa's beautifully decorated boutique sells second-hand items from clothes to accessories. The store's specialty is a selection of children's clothing. Shoppers may find it hard to imagine their little darlings in red leather shorts, but they do look awfully adorable!
Address: Fleminginkatu 8, Opening hours: Mon-Fri 12-19, Sat 12-16

Helsinki 10, helsinki10.com
In addition to new designer goods, Helsinki 10 also houses a large section of trendy second-hand clothing suited to the season. With items for both women and men, collections include anything from leather jackets to floral dresses. The range of boots on offer is highly recommended.
Address: Eerikinkatu 3, Opening hours: Mon-Fri 11-20, Sat 11-18

Mekkomania, mekkomania.fi
Mekko is the Finnish word for dress, and a dress-crazy proprietor runs the cute store located in a corner of the Pinkki Paplari hair salon. Offering carefully chosen frocks from the past five decades, particularly from Finnish designers, Mekkomania also carries jewellery, shoes, gloves, bags and the occasional wedding dress from the 1970s.
Address: Mannerheimintie 31, Opening hours: Tue 11-16, Wed-Thu 11-19, Fri 11-15

Play it again, Sam
The 32-year old pioneer of this vintage boutique has a fantastic eye and the shop is bursting with high end evening gowns, shoes, bags, hats, wigs, jewellery and corsets, with the oldest items dating back to the nineteenth century. The shop also has a corner for men's items.
Address: Rauhankatu 2, Opening hours Mon-Fri 10.30-18, Sat 11-15

Penny Lane Boutique, pennylane.fi
Penny Lane is owned and run by a former Miss Finland who worked as a flight attendant for over four decades. The shop offers quality second-hand items and vintage fashion from clothing to accessories. There is a fine selection of vintage ball gowns and formal dresses on the first floor.
Address: Runeberginkatu 37, Opening hours Mon-Fri 12-17, Sat 12-15

For further information on Helsinki, log on to visithelsinki.fi or visitfinland.com/uk.