Talking trees at the National Forest Wood Fair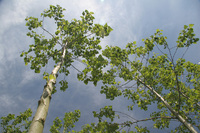 The programme for this year's Talks Tent at the National Forest Wood Fair has just been announced. With a theme of looking after the landscape and the trees, it promises to add a new dimension to this popular event held at Beacon Hill Country Park on Bank Holiday Monday 30 August.

New for this year the Wild Man of the Woods will venture 'indoors' to tell a tale of The Biggest Oak and how a young girl looked after it with the help of the Green Man; and a 'green man' with a difference, Dr Hugh Williams of Forest Research, will give an entertaining talk about how scientific research helps us look after trees, woods and forests for the future.

There will be sessions on the history of Beacon Hill itself, with information on walks to help you explore the area; the living landscape of Charnwood Forest; and The National Forest today – and into the future.

The full programme is as follows:

11.30 am – Peter Williams of Leicestershire County Council will talk on 'Beacon Hill and Beyond': describing Beacon Hill as a base to explore Charnwood Forest walking routes.

12.15 pm – Michael Jeeves of Leicestershire and Rutland Wildlife Trust will talk on 'Charnwood Forest: a living landscape': describing how Charnwood Forest has been shaped by natural processes and human intervention for over 600 million years.

1.45 pm – Barry Paterson is The Wild Man of the Woods. He will tell the story of 'The Biggest Oak' - a children's tale about a girl who meets the Green Man & discovers the importance of woodland conservation.

2.30 pm - Dr. Hugh Williams, Head of Operations, Forest Research, will talk on 'Putting trees, woods and forests to the scientific test - looking after our forests for the future'. There is a forest expression that "it takes 200 years for an oak tree to grow, 200 years to mature and 200 years to die". This entertaining talk will unravel this and other myths, highlight what research can tell us about our trees and woods and reflect on what we need to know for the future.

3.15 pm – Sophie Churchill, Chief Executive, National Forest Company, will talk on 'The National Forest today - and where next' – covering the story of The National Forest so far and plans for the future.

The National Forest Wood Fair will run from 10am – 5pm on Bank Holiday Monday 30 August, at Beacon Hill Country Park. Entry costs adults £7, concessions £4 and a family ticket £15 (for two adults and three children).

Throughout the day there will be lumberjack displays, timber-hauling horses at work, a bodgers' log to leg race, chainsaw carving and greenwood craft demonstrations, with opportunities to have a go at many of the activities.

Children can enjoy eco-art, a climbing wall, listen to the Wild Man of the Woods and, if they're lucky, get a bird of prey to perch on their arm. The Wood Fair Food Area will be packed with delicious locally-sourced food and drink and a farmers market.

A selection of the beautiful, hand-crafted items on sale throughout the Wood Fair will be entered into a charity auction held at the end of the day in aid of Tree Aid.

Beacon Hill Country Park lies within the ancient Forest of Charnwood and is close to the attractive village of Woodhouse Eaves, just five minutes drive from Junctions 22 or 23 of the M1. The Country Park, owned and managed by Leicestershire County Council, with its craggy summit and panoramic views, is just one of the many visitor attractions across the three counties of Leicestershire, Derbyshire and Staffordshire that make up The National Forest.

For more information see nationalforest.org or leics.gov.uk/woodfair.