Give your car a holiday in Cumbria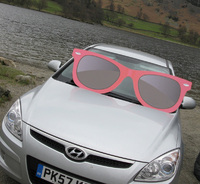 Holidays for cars are now on offer in Cumbria – The Lake District, thanks to a new guide which highlights how visitors to the stunning Eden Valley can give their car a break and let it enjoy a bit of rest and relaxation.

The 'Give Your Car A Holiday' web guide can be downloaded from golakes.co.uk/wildzone and is an essential read for anyone who loves The Lakes and wants the glorious Cumbrian landscape to be just as beautiful the next time they visit. Sponsored by Natural England, the new guide highlights fun ways for everyone to give the car a rest and find other ways to move around.

It follows research commissioned by Natural England and its partners Friends of the Lake District and Cumbria Tourism. Results showed nearly half of Lake District visitors felt they should use their car less and over a quarter wanted more information on how to give their car – and its driver – a break.

'Give Your Car A Holiday' focuses on the Eden Valley – known for fabulous scenery, rich wildlife and breathtaking natural features. Eden is also home to one of England's most beautiful lakes, Ullswater; the stunning waterfall, Aira Force and a wealth of flora and fauna - from red squirrels and red deer, to holly blue butterflies, marsh marigolds and Wordsworth's famous daffodils.

The guide shows visitors how to reach and get around Eden using public transport and other modes, whilst the car is parked up for a day or two. It describes the benefits of giving the car a holiday, including a positive impact on health and the added value that new experiences can give to a break or longer vacation.

It highlights great places to visit by bus, from historical Carlisle and award-winning Orton Farmers Market, to Haweswater – home to golden eagles. Details of independent food producers, who can be visited by bus, sit alongside information on the three major cycle routes crossing Eden – the C2C, the Walney to Witney route and the Pennine Cycleway, as well as do-in-a-day rides, from both Appleby and Kirkby Stephen and Penrith. Cycle hire, guided walks and walkers' facilities and services are other topics. There's even a CO2 game for the kids to play!

Natural England's Regional Director for the northwest, Liz Newton, says: "We are delighted to launch probably the first guide to holidays for cars in Cumbria! We hope visitors will download it when planning their break and either leave the car behind, or pencil in a day or two on their itinerary when they will park it up and get around by other means.

"We are proud our research shows how visitors truly love The Lakes and want to do their bit to protect and preserve this breathtaking landscape. By giving the car a holiday, we can bring back a feel-good factor, do something to benefit our health, save money on parking and avoid the hassle of traffic jams! We can also enjoy refreshingly different experiences and influence how we want the landscape to be today and for future generations."

To download the 'Give Your Car A Holiday' guide, head to golakes.co.uk/wildzone and click on the PDF under the Without The Car sub-heading to the right of the Wild Zone home page.