A new concept in volunteering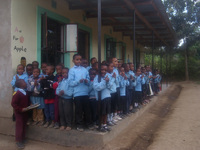 Offering a wide range of projects and travel opportunities, Inspire seeks to create a new concept in ethical and sustainable programmes to volunteer and travel abroad.

Arvind Malhotra, Chief Executive FutureSense explains, "Despite so much talk about career breaks and grown up gap years we still receive feedback that there is no one offering a comprehensive set of volunteering and travel programmes to meet the needs of this expanding market".

Arvind adds, "We aim to differentiate ourselves through our process of understanding the skills and aspirations of individuals looking to volunteer abroad and matching these to appropriate opportunities overseas. Inspire programmes will give people the opportunity to use their time abroad doing something meaningful, while exploring fascinating countries and cultures"

Inspire volunteer and travel programmes are available in 9 countries - India, Tanzania, Ecuador, Nepal, Sri Lanka, Gambia, Chile, Romania and South Africa providing opportunities from 2 weeks through to 6 months. Participants on the Inspire programme can get involved with teaching, childcare, healthcare, livelihood support, women's empowerment and conservation projects. Inspire seeks to attract volunteers from a wide range of ages, backgrounds and experiences to join these programmes and will match them to specific projects based upon the amount of time they have available, their backgrounds, skills and experience.

The Inspire programmes leverage the FutureSense group capability and experience with a strong overseas presence. "We have experienced local managers and coordinators in place along with carefully chosen accommodation options in every destination where we operate. Most importantly participants joining the Inspire programme get the benefit of our local knowledge and contacts, so are never really on their own in an unknown country"

For more information about the Inspire programmes visit: I-VolunteerAbroad.co.uk

Inspire programmes start from as little as £495 for two weeks in Romania, providing individuals the opportunity to make a difference to the children who live in care homes. A number of the projects that Inspire works with are supported by the FutureSense Foundation (futuresensefoundation.org), a UK registered charity. This also provides volunteers to fundraise for their programmes and continue to support the work they do on their trip after their return home.