Emirates revamps Abu Dhabi and Al Ain bus service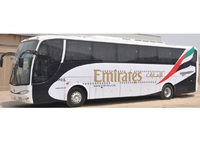 Emirates' Economy Class passengers residing in Al Ain and Abu Dhabi can save themselves a busload of hassle as Emirates increases the frequency of its free of charge bus service, to and from Emirates Terminal 3 in Dubai.

The new frequencies have been implemented to help passengers reach Emirates Terminal 3 conveniently and with no added stress. In addition to the increased services Emirates has also invested significantly in revamping the bus, both inside and out. The bus interior is well air-conditioned with new more comfortable seating, whilst the exterior features an impressive Emirates aircraft decal, designed to stand out on the UAE's busy roads.

Khalid bel Jaflah, Emirates Vice President Commercial Operations UAE said: "We have a significant number of passengers that travel to Dubai from Abu Dhabi and Al Ain to avail of Emirates' world class services. As an airline we are all about connecting people and this value added bus service is just another aspect of our dedication to get passengers to their destination, with minimum hassle and maximum comfort."

With an estimated travel time of less than two hours the newly designed bus has the capacity to seat 49 passengers comfortably. A single, dedicated pick-up and drop-off point has been identified in Abu Dhabi and Al Ain, to help cut down on passenger travel time. Dubai will have two collection/drop-off points to account for arrivals and departures at Emirates Terminal 3.

The service will now depart Abu Dhabi four times daily from the Emirates Town Office located at Khalidiya area, Corniche at 0330 hours, 0930 hours, 1600 hours and 2130 hours. It will depart Al Ain three times daily from the Emirates Office, Emirates Commercial Complex in Khalifa Street at 0330 hours, 1000 hours and 2100 hours.

The return journey from Emirates Terminal 3 will depart outside the arrivals hall to Abu Dhabi four times daily at 0200 hours, 0800 hours, 1430 hours and 2300 hours. Return services to Al Ain will depart Dubai three times daily at 0200 hours, 0800 hours and 1430 hours.

This service is available only if an Emirates flight into/out of Dubai has already been booked. New bookings can be made via emirates.ae, Emirates' offices and through local travel agents.