Discover the desert sands of Arabia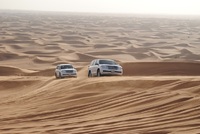 Oh that the desert were my dwelling place, with one fair spirit for my minister, that I might all forget the human race, and, hating no one, love but only her… (Byron)
The deserts of Arabia are simply magical; plunge into the salmon, red, and golden sands on a jeep adventure, experience complete silence on a ranger-led guided walk, learn about the ancient art of falconry, or sit back and enjoy the magnificent vistas and star studded night skies.
In an ever-crowded world, there are still magnificent, vast open desert spaces to escape to and here are just three ideas from Corinthian Travel…
Oman: Sojourn in the Sultanate: 8 days from £1670 per person
A vast sand sea the size of Wales, the Wahiba Sands were once the preserve of explorer Sir Wilfred Thesiger. Discover them on the 8 day Sojourn in the Sultanate itinerary, staying in style at the Desert Nights Camp. Other highlights include driving off-road in wild wadis, al fresco picnic lunches, visiting fairy tale forts and ancient villages, and walking through the hanging villages, orchards and verdant terraced fields of the Jebel Akhdar (Green Mountain).
Jordan: Petra & the Arabian Sands: 8 days from £1295 per person
Wadi Rum offers some of the finest and most romantic wild desert scenery in Arabia. During the First World War T.E Lawrence (of Arabia) made his home in the valley. There is a choice of accommodation; stay at either the deluxe Bespoke Hideaways Camp (supplement applies) or the simple Milky Way Camp. Other highlights of the itinerary include a full day to explore the ruins of ancient Petra a morning walking through the Jordanian capital Amman, discovering the preserved Roman city of Jerash and relaxing by the glittering shores of the Dead Sea.
Abu Dhabi & the Empty Quarter: 8 days from £1345 per person
Here, in the largest sandy desert on the planet, your base will be the luxurious Qasr Al Sarab, an Arabian-Nights-style 'fantasy' resort offering all the comforts one could wish for as well as exciting opportunities for desert activities including falconry, desert walks and mountain biking. Other highlights will include a cruise on a traditional pearling dhow, a visit to the magnificent Sheikh Zayed Mosque, the opulent Emirates Palace and see the gravity-defying Capital Gate Tower.
Corinthian Travel also offers tours to the Al Maha Desert Reserve in Dubai.
All holidays include private chauffeur-driven vehicles, accommodation, some meals, entrance fees to places visited and English speaking guides (refer to individual itineraries for detail).
Flights not included (bookable through Corinthian Travel on request).
For more information, visit corinthiantravel.co.uk.
Corinthian Travel offers recommended tours and tailor-made itineraries to holidays in Turkey, Egypt, Oman, Dubai, Abu Dhabi, Israel, Jordan, Tunisia and Lebanon, with dedicated expert guides, the finest hotels, and private sightseeing.