Jesus' Baptism Site awarded UNESCO World Heritage status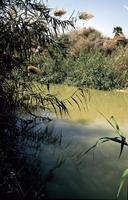 The site by the side of the River Jordan, opposite Jericho, which for over two millennia is believed to be where Jesus was baptised by John, has just been made a UNESCO World Heritage Site.

Also known as Bethany Beyond the Jordan, it is the fifth site in the Kingdom to be included in the list after Petra, Quseir Amra, Um Al Rassas and Wadi Rum.
Christian tradition marks this spot as the place of the 'spiritual birth' of Jesus as opposed to his physical birth in Bethlehem.
As such, the baptismal site is of great sacred significance; the third holiest in the Christian world after the Church of the Nativity in Bethlehem, and the Church of the Holy Sepulchre in Jerusalem.
In 1996, archaeological discoveries enabled the identification of the exact place where John had been living and carrying out his baptisms as Bethany Beyond the Jordan.
The site extends down to the reedy banks of the Jordan River and includes several ruined Byzantine churches.

Bethany Beyond the Jordan can be visited on Corinthian Travel's 7 night Petra & the Arabian Sands itinerary which is a sensibly paced, week long, chauffeur-driven tour of Jordan combing the cultural and scenic highlights of this fascinating desert kingdom, with a night under the stars, in a Bedouin-style camp, in the magical desert setting of Wadi Rum.
Other highlights include a full day to explore the stunning ruins of ancient Petra, a morning's guided walk through the Jordanian capital Amman, discovering the amazingly well-preserved Roman city of Jerash and enjoying time relaxing by the glittering shores of the Dead Sea.
Throughout the itinerary, accommodation is in some of the best hotels in Jordan.
October is a particularly good time of year to visit and the itinerary is well-suited to families who might want to travel over half term.
The holiday costs from £1295 pp (two sharing) which includes 7-nights' B&B (plus three lunches and one dinner) sightseeing and entrances as per the itinerary with an English speaking guide.
Flights not included (bookable through Corinthian Travel on request).
For more information, visit corinthiantravel.co.uk.
Corinthian Travel offers recommended tours and tailor-made itineraries to holidays in Turkey, Egypt, Oman, Dubai, Abu Dhabi, Jordan, Tunisia and Lebanon, with dedicated expert guides, the finest hotels, and private sightseeing.