New Chauffeur Driven Tour of Jordan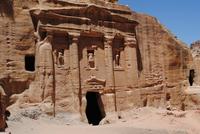 Specialist operator Corinthian Travel has created a NEW 14-day itinerary to Jordan, travelling throughout in a private, chauffeured, air-conditioned vehicle.
Comments Hugh Fraser, Managing Director of Corinthian Travel, "A lot of travel companies seem to sell Jordan as more of a 'tick box' exercise rather than allowing plenty of time to see the country properly.
"Our longer itinerary is designed with the interests of the cultural enthusiast in mind who wants to travel off-the-beaten-track and dedicate more time to exploring the country's rich heritage and culture.
"For example very few people visit the tomb of the Roman Soldier in Petra, yet it is probably the third best in the entire site."
Jordan is located at one of the great crossroads of history; beyond the great cultural treasure of Petra, the land is incredibly rich in beautiful scenery and monuments that span the millennia. The Grand Tour of Jordan is a holiday that will take you to sites that are almost entirely visitor free, it also includes two memorable wilderness experiences, and has time built in to relax by both the Red Sea and the Dead Sea.
Highlights of the itinerary include:
Private tour of the ruins of Jarash
Drive into the black basalt desert to the east of Amman to visit the 'Desert Castles' of Qasr Amra, Qasr Kharana and Azraq
Guided walking tour of Amman including the ancient Citadel, old souqs, and the Roman theatre
Mt. Nebo, from where Moses first saw the Promised Land
The Ottoman town of Madaba noted for its Byzantine mosaics
Mukawir, a fortress of Herod the Great which commands views over the Dead Sea
A drive to Wadi Rum via the ancient trade route known as the Kings Highway, stopping en route to admire the view over Mujib Canyon
The Crusader Castle of Kerak
An overnight stay in a desert camp with an early start to watch the sun rise over the desert
A guided tour of ancient Petra
Time to relax by both the Dead Sea and the Red Sea
The holiday can start any day of the week or time of year and costs from £2450 pp (two sharing). This includes 13 nights' accommodation, some meals, all land transportation and airport transfers, private chauffeured vehicles with guides, sightseeing and entrances fees.
Flights not included (bookable on request).
For more information, visit corinthiantravel.co.uk.