Get Fast & Furious in Abu Dhabi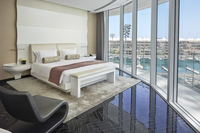 Racing enthusiasts and adrenaline junkies will no doubt be dashing to see Furious 7 which has just hit the big screen staring Hollywood hunk Vin Diesel. The film's producers have kept up the momentum in this latest offering from the world famous series with jaw dropping car chases and awe-inspiring stunts, some of which are filmed in the equally impressive city of Abu Dhabi. Labelled as the Gulf's new adult playground, the capital of The United Arab Emirates is the ultimate choice for an exhilarating automotive adventure.
Thrill seekers won't be able to get any closer to the action than by booking a room at the iconic Yas Viceroy Abu Dhabi. Located on the city's 'entertainment' island, it's the only hotel in the world suspended over a Formula 1 race-track. Guests can view the track from many of the hotel's luxurious bedrooms and feel its vibrations from the terraces of the stylish restaurants and bars. Mirroring the nature of the F1 track, the hotel's striking futuristic architecture fuses sensuous curves with sleek lines. Rooms start from £144 (AED782) per night (inc tax). Bookings: yas.reservations[at]viceroyhotelsandresorts.com. Fly direct from London Heathrow to Abu Dhabi with British Airways from £415 return.
Yas Viceroy Abu Dhabi is the ideal base for experiencing all the high energy activities the capital has to offer, making Abu Dhabi the ultimate 'guys' getaway'. Why not try tearing up the world's latest super car on the Formula 1 track or dune bashing near the stunning Liwa Oasis? Adventurers can also challenge themselves to riding the world's largest surfable sheet wave or the fastest ever rollercoaster at the Ferrari theme park.
Top activities on offer include:
Yas Marina Circuit:
At the heart of Yas Island, this stunning facility includes a 5.55km Formula 1 track, and longest straight on any current F1 circuit (1,173 metres). For three days each year, the track delivers the roar of Formula 1 racing to packed grandstands. At other times, it entertains a host of premium motorsport events, from Yas Drag Racing, Yas Drift Nights to local motor racing events sanctioned under the newly created Yas Motor Racing Club. The circuit also hosts driving experiences at the Yas Racing School, Karting at the Kartzone.
Chevrolet Camaro drag racing:
Get the thrill of drag racing in a safe controlled environment on Yas Marina's state of the art National Hot Rod Association approved strip. Why not 'drag' your friends, and feel the rush on a 6.2 litre V8 Chevrolet Camaro. The Chevrolet Camaro is the car of choice for drag fans worldwide. If that isn't hard core enough, you can strap into the three-seater dragster to reach speeds of 100km.
Karting:
Let loose and test your limits on the Yas KartZone circuit for an Arrive and Drive session on your own or with a small group of friends. The circuit's Timing System provides print-outs along with a performance graph and statistical information on each driving session, helping drivers improve their karting skills. Arrive and Drive every day from 2pm till 9:30pm.
The ultimate drive:
Emulate the smooth 007 himself by trying your hand at driving the magnificent 4.7 litre V8 Aston Martin. After a briefing from an expert instructor it's over to you to experience one of the most exciting racing experiences in the UAE. This is one not to miss.
Dune bashing:
With high dunes and long sand valleys all around, you'll never get bored of adrenaline-fuelled dune bashing in Abu Dhabi. Experience the breath taking dunes between the UAE capital and the Oasis City of Al Ain or explore the desert expanse outside the Liwa oasis in the Western Region.
Yas Waterworld:
This futuristic waterpark spans an area of around 15 football pitches, with 43 rides, slides & attractions – five of which are one-of-a-kind. Visitors can try the 238-metre long, world's first, and largest hydro magnetic powered, six-person tornado waterslide. For adrenaline seekers there are three-metre high waves on Bubble's Barrel, which has the world's largest surfable sheet wave for flow boards and body boards.
About Yas Viceroy Abu Dhabi
Designed to impress, Yas Viceroy Abu Dhabi reflects dynamic energy, passion and contemporary flair. From its attractive canopy of colored lights to a thrilling location spanning the Yas Marina Circuit, every aspect of this stunning venue is an example of creative innovation, beckoning visitors to explore a modern oasis. Exhilarating and awe-inspiring, Yas Viceroy offers experiences like no other. As Yas Island Abu Dhabi's premier hotel, Yas Viceroy Abu Dhabi sets the standard for exceptional service throughout its 499 impeccable rooms and suites, 11 innovative dining venues and lounges and ESPA at Yas Viceroy. The interiors of this Abu Dhabi resort embody a contemporary fusion of elegance and momentum, created with sensuous curves and sleek lines.
About Viceroy Hotel Group
Viceroy Hotel Group delivers one-of-a-kind lifestyle experiences that bring together provocative design and intuitive service in sought-after locations. Signature brand amenities and services created for the diverse business and leisure guests include dynamic dining venues featuring world-class culinary talents and destination spas specialising in health, fitness and beauty. Current properties include hotels and resorts in Abu Dhabi, Anguilla, Beverley Hills, Maldives, Miami, New York, Palm Springs, Riviera Maya, San Francisco, Santa Monica, Snowmass, St Lucia and Zihuatanejo. Forthcoming openings in Turkey and Dubai.