Discover Oman's Frankincense Coast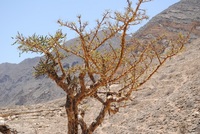 Gold, Frankincense and Myrrh were the fabled three gifts brought by the 'wise men' from the Middle East to the birthplace of Jesus yet, at that time, Frankincense was the most valuable of the three.

Oman is the land of frankincense and Corinthian Travel has put together a private, chauffeur-driven tour which has been designed to explore the rich legacy and heritage of the frankincense trade in Oman, combining a tour of the north of the country – including a night at a comfortable desert camp – with a visit to the semi-tropical shores of Dhofar on the Arabian Sea.
Frankincense was the foundation of many a Dhofari merchant's wealth, and was shipped through the ports of Dhofar to the exotic markets of the known world. The province only became part of Oman proper in the 19th century and has distinct cultural, tribal, and linguistic differences from the northern part of the country.
When in the south of Oman there will be a visit to the ancient incense ports of Al Balid and Sumhuram, travelling to the slopes of the Qara Mountains where the frankincense tree (Boswellia sacra) grows wild.
The heavy incense-laden air of Salalah's Al Haffah souq, will immerse you in the history and traditions of frankincense.
Other highlights of the itinerary include:
Guided tour of Muscat, the capital
A scenic coastal drive to the ancient maritime centre of Sur
An off-road drive in the dramatic valley of Wadi Arbaeen with its towering cliffs
A swim in the spring-fed canyon of Wadi Bani Khalid
Watching the sun set over the golden dunes at a luxury desert camp
The 17th fortress of Jabrin
The oasis of Al Hamra with its crumbling mud-brick village and 400 year old museum
A drive to Jebel Shams - Oman's highest peak – for a three hour trek
Misfat al Abryeen, a stone village perched dramatically on a hill overlooking its oasis
Nizwa's vibrant Friday cattle auction - one of the highlights of any holiday in Oman
Chilling on the coconut-tree-fringed beaches
The holiday costs from £2495 pp (two sharing) which includes airport transfers, nine nights' accommodation, most meals, sightseeing and entrances as per the itinerary, private chauffeur-driven transport throughout.
Flights not included (bookable through Corinthian Travel on request).
For more information, visit corinthiantravel.co.uk.
Corinthian Travel offers recommended tours and tailor-made itineraries to holidays in Turkey, Egypt, Oman, Dubai, Abu Dhabi, Jordan, Tunisia and Lebanon, with dedicated expert guides, the finest hotels, and private sightseeing.