Follow Prince Harry on a flying visit to Oman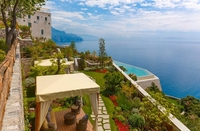 When Harry met Sayyid: Prince Harry's recent visit to Oman saw the coming together of two close royal families, enabling the Prince to sample some of the host country's traditions and take in some of the must visit sites appropriate for any first time visitor. One needn't be of noble birth to enjoy an exotic eastern adventure…From mystical Muscat to Oman's fascinating forts and majestic mountains, follow the royal trail with Exsus.
Visitors to Muscat should take the Prince's lead with a spot of haggling in the souqs, but would be advised to forgo taking part in the traditional dance at Nizwa and the Round Tower Fort, which saw Harry jokingly square up to locals whilst wielding a three-foot sword.
On his whirlwind tour the Prince paid his first visit to a mosque, where he followed religious custom and went barefoot. The Sultan Qaboos Grand Mosque was completed in 2001 and given as a gift to the nation from the Sultan to mark the 30th year of his reign. The Grand Mosque can hold up to 20,000 worshipers and is adorned with crystal chandeliers, murals, stained glass panels and inscriptions of Islamic embellishments.
Prince Harry also visited Jabal Akhdar, meaning "The Green Mountain" in Arabic and forming part of the Al Hajar mountain range, one of Oman's most spectacular regions. Perched at its highest peak 2,000 metres above sea level, Alila Jabal Akhdar (opened April 2014) overlooks a dramatic gorge, surrounded by awe-inspiring views of the Al Hajar Mountains. The resort is the perfect base for exploring the region's magnificent landscape of rugged, untouched beauty while experiencing the height of sumptuous comfort in royal style.
Exsus offers a four night royal flying visit from £1,700 per person, based on two people travelling between now and 20th December 2014. This includes flights, transfers, tours and accommodation on a bed and breakfast basis. The itinerary includes two nights at the Chedi in Muscat and two nights at the Alila Jabal Akhdar.
For more information, visit exsus.com.